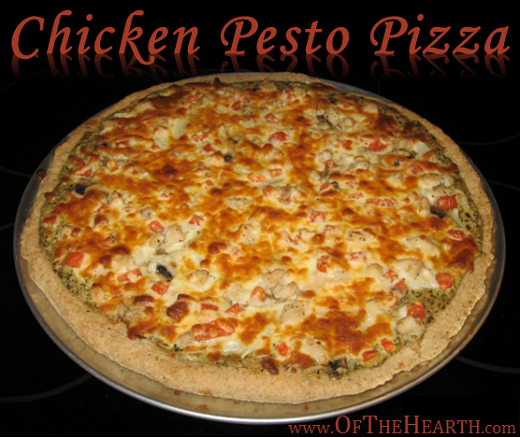 Pizza is one of my husband's favorite dishes. He likes traditional pizza (tomato-based sauce, Italian meats, etc.) but I'm a tad bit more adventurous. I took a chance by integrating pesto, a flavor I know he likes, into a pizza recipe. The verdict? He and I both agree that it's pretty tasty.
Pizza dough ingredients
1 cup warm water (110 degrees F)
2 cups whole wheat flour
1 cup unbleached all-purpose flour
1 package or 2 ¼ teaspoons rapid rise yeast
2 tablespoons olive oil
1 teaspoon salt
1 tablespoon sugar
1 tablespoon Italian seasoning
Chicken pesto topping ingredients
1 chicken breast
1 teaspoon Italian seasoning
8 oz. Alfredo sauce
4 oz. basil pesto
1 teaspoon chopped garlic
1 small onion
3 mushrooms
1 Roma tomato
1 heaping cup shredded mozzarella cheese
Instructions
Heat the water. (In my microwave it takes 1 minute at full power to get it to the correct temperature.) Combine the dry pizza dough ingredients in a large bowl.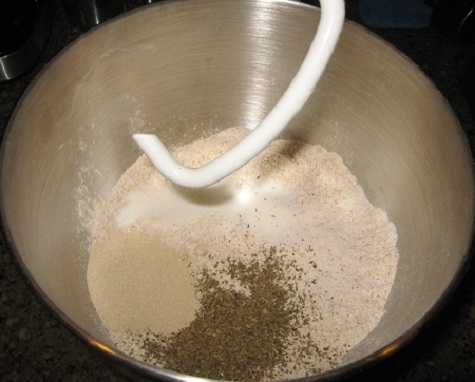 Mix in the olive oil and warm water. (I use the dough hook on my stand mixer for this, but it can also be completed by hand.) Once the ingredients are combined, knead the dough for about 1 minute. If the dough is super sticky, add a few tablespoons of flour.
Drape a towel over the dough and let it rise in a warm spot. Preheat the oven to 375 degrees F. While the oven heats and the dough rises, chop the chicken into bite-sized pieces and cook it in a skillet over medium heat. Sprinkle it with Italian seasoning while it cooks. In a small bowl, mix together the Alfredo sauce, pesto, and garlic. Slice the onions and mushrooms and chop the tomato.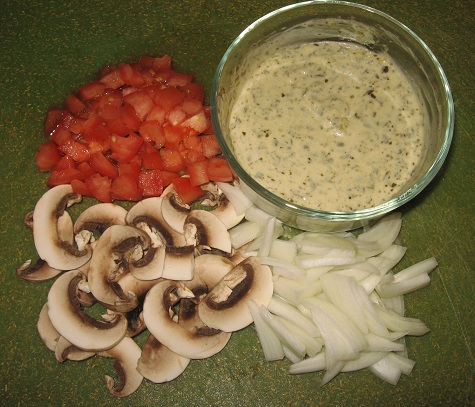 Allow the dough to continue rising until it doubles in size. (This usually takes about 30-35 minutes, but if your kitchen is cool it may take a bit longer.) Once the dough is finished rising, spread it out on a large pizza pan. Bake it for 5 minutes. Remove it from the oven and top it with the Alfredo-pesto mixture, chicken, onion, mushrooms, tomato, and mozzarella cheese.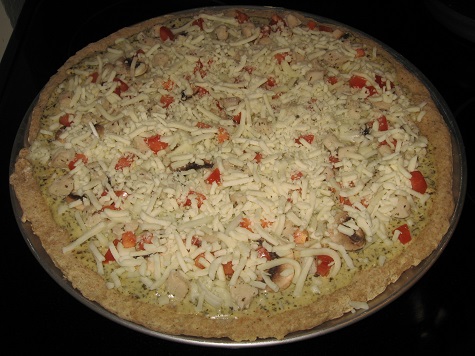 Return it to the oven and bake it for an additional 20 to 25 minutes. Yield: 4 servings.
Notes:
This pizza has a very rich flavor and is very filling. The pizza pan I use is 15.75 inches in diameter, so this gives you an idea of how large the pizza will turn out. The ingredients for the pizza dough cost $1.62 and the ingredients for the pesto topping cost $5.52. Thus, the pizza costs $7.14, which is $1.79 per serving. We serve it with a vegetable (usually green beans), which means the meal costs $1.96 per serving. If you like pesto, you should definitely give this pizza a try!
Shared on the following link-up: