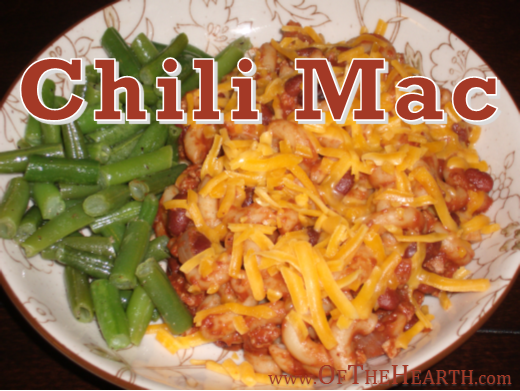 We've enjoyed having chili mac on our menu this fall. This super affordable dish is easy to prepare, nutritious, and filling.
Ingredients
3 cups macaroni pasta (uncooked measure)
1 lb. ground beef or turkey
1 medium onion, chopped
2 teaspoons chopped garlic
24 oz. strained tomatoes, tomato sauce, or finely diced tomatoes
1 cup beef or chicken broth
2 teaspoons chili powder
1 teaspoon ground cumin
2 teaspoons cocoa
A couple dashes of salt and pepper
2 cups cooked red beans (or a 15.5 oz. can of red beans)
1 ½ cups shredded cheddar cheese
Instructions
Prepare the macaroni according to the package directions. As it cooks, place the ground meat, garlic, and onion in a large skillet. Brown over medium heat. Once cooked thoroughly, add the tomatoes, broth, chili powder, cumin, cocoa, salt, pepper, and beans.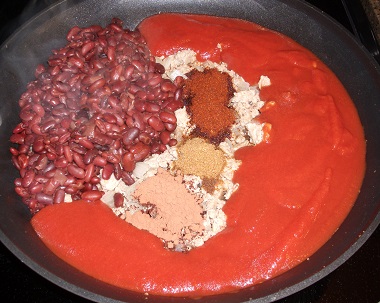 Reduce the heat to low and simmer for 10 minutes. Stir in the prepared macaroni.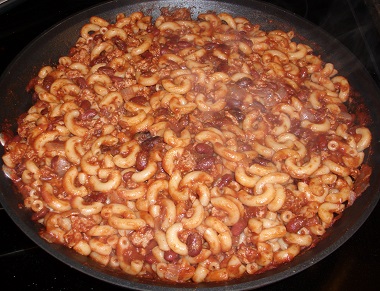 Sprinkle with cheddar cheese before serving. Yield: 6 servings.
Notes
The savory flavor of this dish is great! It is mild, though, so if you prefer spicy food, consider adding additional chili powder or a dash of cayenne pepper. It's very filling, so your hunger will be satiated for a while.
One of the greatest things about this recipe is its price tag. The ingredients for this dish cost $8.89, which is only $1.48 per serving (this price includes everything but the salt and pepper—I didn't calculate the cost of a couple dashes of these!). Give this one a try if you're looking for a budget-friendly, satisfying, and tasty dinner!
Which easy and affordable dishes have you made recently?
Shared on the following link-ups:
Weekend Potluck, Frugal Crafty Home, Share Your Creativity, Saturday Show & Tell, T.G.I.F. & Essential Fridays.