My daughter, Amaris, will turn 1 year old in less than a month. What a bittersweet milestone!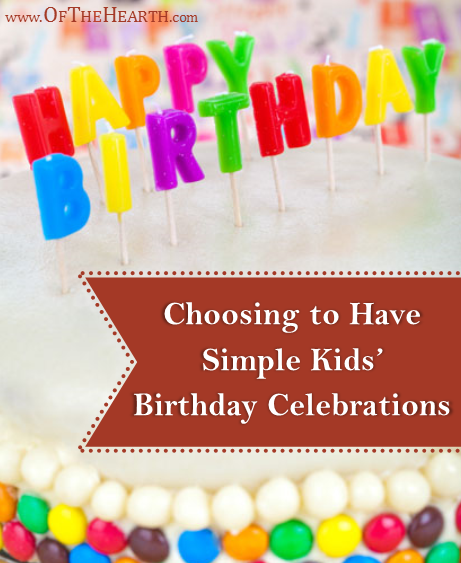 Though it may be trendy to celebrate a child's birthday with an elaborate party that includes a bounce house, mobile petting zoo, food trucks, and party favors, we're choosing a much simpler approach. We'll go on an outing as a family and enjoy some sweet treats.
Why the simple celebration? I don't feel comfortable with the concept of extravagant birthday parties for my child. Don't get me wrong—I love her more than words can express and I want her to feel special. I don't want her to feel special simply because she's a year older, though. I want her to feel special because she knows her father and I love her and because she is the blessing God gave us when we prayed for a child. Moreover, she's loved by God and uniquely created by Him (Psalm 139:13-16). These things are communicated to her through the time we spend with her and the life-giving words we speak to her, not by a clown who can make intricate balloon animals.
The sometimes obscene cost of extravagant parties is also a concern. According to U.S. News & World Report, 70% of parents spend at least $300 on their child's birthday party, with 14% spending over $1,000! Is this really a wise use of resources? I certainly want my child to have wonderful memories from her childhood, but these memories can be made affordably. Additionally, we want to model spending that demonstrates the eternal significance of how we spend our money (Matthew 6:19-21). Rather than spending an exorbitant amount on a party, we'll use our money for things we believe have more significant impacts: a college fund for our daughter, a family vacation, donating to charity, etc.
I'm not saying that there's anything wrong with traditions. In fact, traditions act like a glue that holds families together, so we should definitely have these! There's also nothing wrong with having a party, using special plates and napkins, or even having a bounce house. In the years to come, I'm sure we'll have some modest parties to celebrate her birthdays. I just believe that we should check our motives. Am I hosting the party for my child or for myself? Am I trying to keep up with the Joneses? Am I trying to one-up other mothers? Am I trying to compensate for times when I've been impatient with my child or haven't given her as much attention as I should?
We should also consider the impacts that extravagant birthday parties will have on our children. Will my daughter become so focused on the activities and gifts that she loses focus on what really matters? Will she expect something bigger and better each year? Will she feel prideful about her parties when she attends the more humble parties thrown for her friends' birthdays?  
If, after considering these things, you feel that an elaborate birthday party is appropriate, then go for it and have fun! If not, then do whatever sort of celebration you do feel is appropriate.
How do you celebrate the birthdays of your children? What factors help you decide whether to have a simple or elaborate celebration?
Shared on the following link-ups:
Saturday Soiree, Weekend Wind Down, Shine Blog Hop, Think Tank Thursday, WholeHearted Wednesday, Tuesday Talk, Titus 2 Tuesday, The Art of Home-Making and Monday's Musings.
Save