No, your eyes are not playing tricks on you. It is only July, but I am already thinking of Christmas. As I explained in last year's introduction to Christmas in July, I am not attempting to minimize the celebrations that occur between now and Christmas, nor am I promoting "Christmas creep" (the phenomenon of retailers exploiting the commercialized status of Christmas by moving up the start of the shopping season). I'm planning for Christmas early so my family and I can maintain focus on the real reason we celebrate.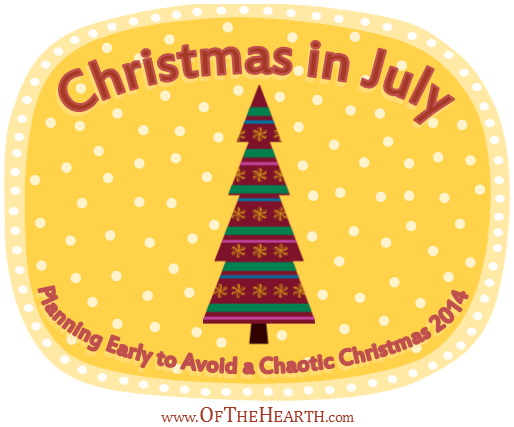 The Christmas season is stressful for many Americans. In fact, researchers found the following in one study:
An increase in stress during the Christmas season is experienced by 38% of Americans.
Christmas stress is disproportionately felt by women (44% percent of women report an increase in stress compared to 31% of men). Women report having a hard time relaxing due to preparations associated with family celebrations (e.g., gift shopping, cooking, cleaning).
Individuals of both genders who report an increase in stress around Christmas are more likely than those who don't experience increased stress to worry about money and buying gifts.
Planning early is one way we can enjoy traditions (time with family, traditional treats, gift exchanges, decorations, etc.) without losing focus on our celebration of the Savior whose birth we're commemorating (Luke 2:1-20).
Last year we examined four Christmas in July topics:
Over the next few weeks we'll examine three new topics:
How do you approach Christmas preparations? Do you wait for the last minute or do you start early? If you start early, what sort of tasks do you address ahead of the Christmas season?
Shared on the following link-ups: