Where has the first half of this year gone? Somehow July has crept up on me! I imagine that December—and Christmas—will do the same.
Thankfully, I take time each July to plan and prepare for Christmas. As I've explained previously, this is not an attempt to usher in the Christmas season prematurely; it is one way my family avoids a chaotic Christmas season so we can maintain focus on the real reason we celebrate. (You can see a list of previous Christmas in July topics here.)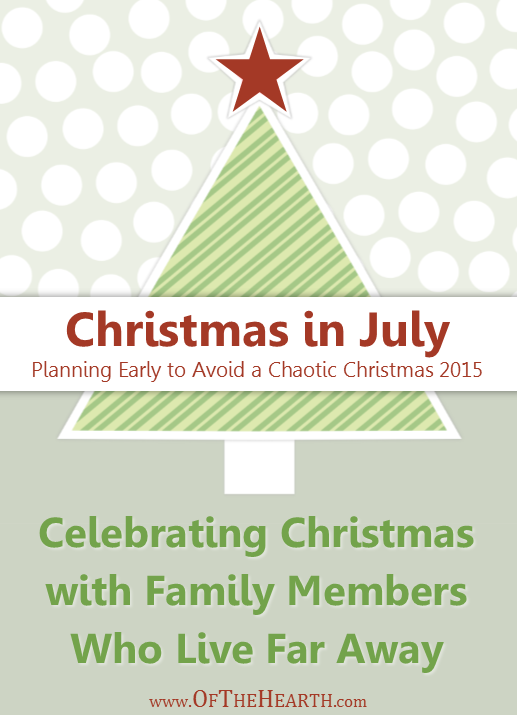 My family is currently in the midst of a move. My side of the family and my husband's side of the family are thousands of miles from one another. In our new location, we will be roughly halfway between them. As you can imagine, there is no way we can be physically present to celebrate Christmas with both sides. However, we do want to share with one another during the Christmas season, so I'm considering some ways we can plan to have long-distance Christmas celebrations.
Ideas for celebrating Christmas with relatives who live far away
Use video chatting technologies.

Skype and similar programs are a huge blessing when you live far away from your relatives! You can do just about anything "together" when you have these. You can watch one another open gifts, have the grandparents read Christmas stories to the grandkids, sing Christmas carols together, etc. Most of these programs are free, so you can use then as often and as long as meets your needs.

Keep traditions.

Traditions keep you connected to your past and bonded to your family members. You'll likely feel sentimental and Christmasy just by participating in them! It is extra special if your immediate family and your relatives who live at a distance can engage in a tradition (e.g., baking cookies, putting up the tree, looking at Christmas lights) on the same day. You can then call or video chat to share about your experiences.

Share lots of pictures.

There is so much truth to the adage that a picture is worth a thousand words. Snap photos of you and your family setting up the nativity, baking cookies, modeling special Christmas outfits, opening gifts, etc. Then share these. Print them and send them in the mail or send them electronically via text message, email, Facebook, or whatever works for your family. One creative way to preserve your memories is to collect photos from the whole family and compile them online in a photo book. You can then print copies so each family has one to look through and reminisce.

Pray for one another.

When you pray for your loved ones, they are on your mind and heart. This makes it easy to feel connected to them! It feels wonderful when you set aside time on Christmas or Christmas Eve to pray for your family members. Consider calling or emailing in the days before Christmas to ask about their prayer needs.

Celebrate at an alternative time of year.

If your family will be gathering at some time during the year other than Christmas, consider if you can do part (or all) of your Christmas celebration then. You can do something as simple as watching a favorite Christmas movie or something more significant like exchanging gifts or eating Christmas dinner.
Because it's only July, we have plenty of time to make plans to use these approaches!
Are you far from your relatives? What things have you done to celebrate Christmas with them despite the distance that separates you?
Shared on the following link-ups:
Motivation Monday, Saturday Soiree, Shine Blog Hop, Coffee and Conversation, WholeHearted Wednesday, Titus 2sDay, Teach Me Tuesday, Titus 2 Tuesday, Wrapping Up The Holidays, and Monday's Musings.
Save