Traditionally, the term "Advent" has referred to the first season of the Christian church year. Advent is a period of prayer, reflection, and fasting that begins four Sundays before Christmas, preparing followers to celebrate Christ's birth and building expectation for Christ's final coming. Even for Christians who don't use the church calendar in their practice of Christianity, Advent is still a period of preparation for the celebration of Christ's birth.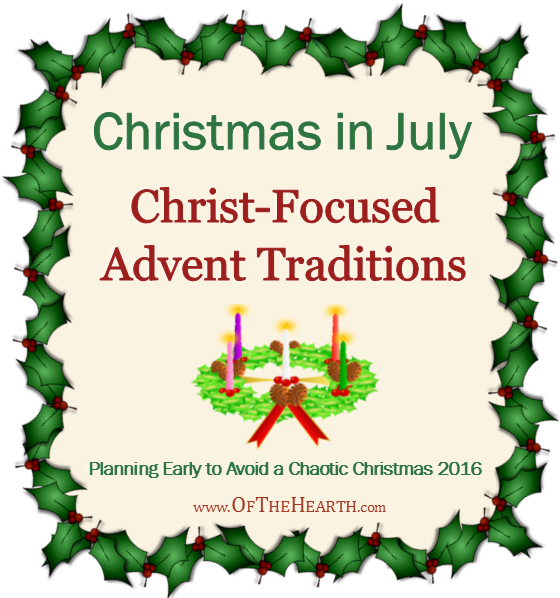 In the past several years, non-Christian Advent traditions have become increasingly popular (e.g., advent calendars that contain candy or toys, Elf on the Shelf). As a Christian, I want to make sure my family spends the weeks preceding Christmas focusing our hearts on Christ. If you feel this same way, then you may be interested in utilizing one of the Christ-focused Advent traditions described below.
Before we take a look at these, you may want to know why we are discussing Advent in the middle of the summer. Like most of the topics addressed in the Christmas in July series, we can't wait until Christmas to think about Advent. At this point, it will be too late to implement a tradition! This is why I write the Christmas in July series—to help us plan and prepare in advance so we can avoid chaos over the Christmas season and maintain focus on the real reason we celebrate. (Read more about the purpose of Christmas in July here.)
Christ-focused Advent traditions
These are some wonderful ideas! Does your family practice any of these Advent traditions? What other things do you do to keep focused on Christ as Christmas approaches?
Shared at the following:
Tuesday Talk, Faith Filled Wednesday, Think Tank Thursday, Shine Blog Hop, Grace and Truth, Weekend Wind Down, Making Your Home Sing, Wrapping Up The Holidays, and Coffee and Conversation.
Save
Save
Save
Save
Save
Save
Save
Save
Save
Save