Welcome to the third installment of Christmas in July 2013. If you missed the first two posts in this series, including the explanation of the purpose of Christmas in July, you can see them here and here.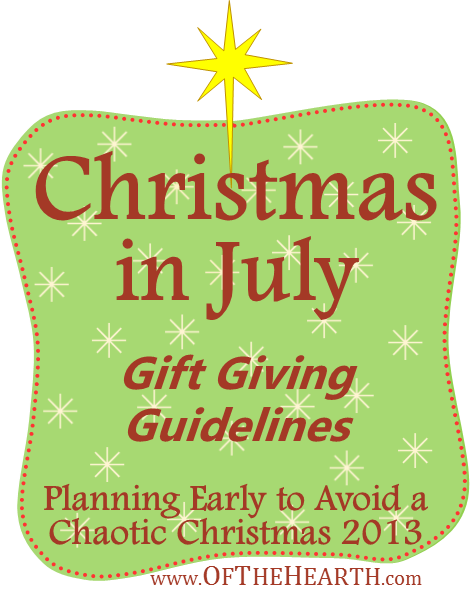 Have you ever received an awful gift? Maybe a tube of anti-aging cream or a parenting book? How about a meat sampler (though it's widely known that you're a vegetarian)? That was easy to admit, but what about this: Have you ever been on the giving end of an awful gift? Maybe you settled on a pair of fuzzy slippers for your aunt? Perhaps you gave your dad a plaque-mounted plastic fish that sings?
While Christmas certainly isn't about gifts, exchanging gifts is an important tradition for many families. When we give gifts that aren't wanted or needed, we put our loved ones in awkward positions. What should they do with the gift? Should they pretend to like it? These gifts can also generate waste. Though regifting or giving a gift to charity would be wise, many of these gifts (especially food items) end up in the trash.
If you're in a situation where you need to select Christmas gifts for numerous family members, it's almost inevitable that you'll find yourself struggling to come up with an idea for someone. In order to make sure I purchase meaningful gifts, I'm adopting some guidelines for gift giving.
Guidelines for gift giving
Select something you know your loved one wants or needs.

This is a no-brainer, right? You can ask your loved one for ideas or you can take notes throughout the year of things he or she has mentioned wanting or needing. Remember when your sister mentioned she needs a scarf or when your uncle commented that he'd like a set of tools for his grill? If your loved one has an Amazon Wish List, you can also check it for ideas.

Avoid giving novelty gadgets and other "stuff."

If the gift is designed to do nothing but sit on a shelf or desk (e.g., figurines, little fountains, a decorative dish) think long and hard before purchasing it. If an object serves a practical purpose (e.g., sits atop paper to keep it from blowing away, slices a banana) but will be used sparingly or is simply more novel than it is practical, ask yourself if the recipient would really benefit from it. Most of us have enough "stuff" cluttering our homes already.

Consider paying for a "luxury" subscription.

In this context, I'm using luxury to describe anything that's not essential. Would your brother love having a gym membership? Is there a particular magazine your mom would enjoy getting in the mail each month? Other popular subscriptions include Netflix, Hulu Plus, and Amazon Prime. Consider paying for some or all of next year's subscription to whatever product or service your loved one prefers.

Purchase a gift that complements another gift your loved one will be receiving.

Chat with other family members to find out what they are giving as gifts. Are your parents giving your brother a power drill? You could purchase a set of drill bits for it. Is your sister buying a coffeemaker for your mom? You could purchase some coffee to accompany it. Giving complementary gifts can increase their utility.

Get your loved one something that will save money or improve his or her quality of life.

Items that save money and are useful, even if they're not flashy, are wonderful because they keep on giving throughout the year. Items like programmable thermostats and CFL light bulbs can cut energy costs. Something like a raised garden bed or a rain barrel can help the vegetable gardener in your family grow more food. Other gifts that can improve quality of life include money for car repairs, supplies to support a hobby, payments toward debts, and free babysitting or help around the house.
Hopefully these guidelines will prevent me from ever again giving an awful gift! I've identified them early so I can keep them in mind over the next few months as I come across items that will make great gifts.
What if you want to avoid the chance of giving an awful gift by scratching gift giving entirely or choosing an approach that doesn't involve purchasing a gift for each family member? We'll examine some answers to these questions next week when we look at alternative gift exchange ideas and some tips for talking with family about gift giving.
Have you ever been the recipient or the giver of an awful gift? What was it? Do you have guidelines for purchasing gifts?