I really enjoy sending and receiving Christmas cards. Unfortunately, the amount of paper and energy it takes to produce traditional Christmas cards means they're not particularly green. In today's installment of Christmas in July 2014, we're going to look at some environmentally-friendly ways to send Christmas greetings. Be sure to catch the previous installments in this year's Christmas in July (they can be viewed here, here, and here).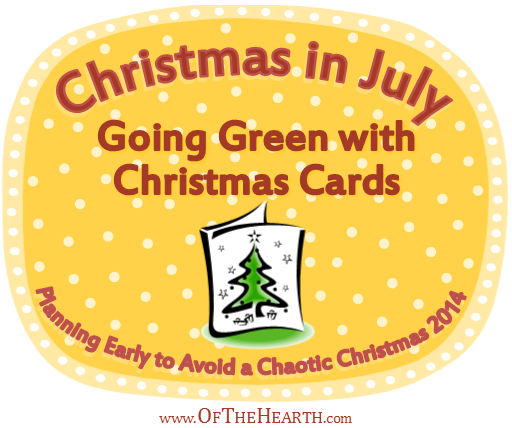 What alternatives are there to traditional cards? Can these be as personal and meaningful as traditional cards? Let's take a look at the options.
Green Christmas card ideas
E-Cards.

Electronic cards are available to be sent via email from dozens of sources. When selecting a source you'll want to consider a number of factors. First, you'll want to consider cost. Some sources send e-cards for free, while others require a subscription. Second, you'll want to consider the privacy policy of the source. Your loved ones won't appreciate you providing their email addresses to a company that will spam them or sell their addresses to other companies! Third, you'll want to consider the style of cards provided by various sources. Some companies have cards that are really cheesy, while others offer more sophisticated cards.

Handmade cards made from recycled materials.

If you search your house, you may find that you have all the supplies you need to make your own Christmas cards (scraps of paper, old buttons, wallpaper samples, used pieces of gift wrap, etc.). You can save these materials from being thrown in the trash and create beautiful cards at the same time! You'll just need to purchase envelopes in which to mail the cards.

Audio messages.

You and your family can share your Christmas greetings in an mp3 file emailed to your loved ones. You could record a song, poem, spoken word piece, or some other creative work for your recipients. Simply use an application you have available on your computer (e.g., Garage Band on a Mac, sound recording application on a PC) or phone (e.g., record a voice memo and email it to yourself) to record the file. A similar idea is to send an audio postcard (picture, mp3, and message sent together via email). Various services, including postcard.fm, can be used to send these. This could be a lot of fun!

Photo collages.

Photo collages are super easy to create using software on your computer (e.g., Microsoft Publisher) or online (e.g., PicMonkey). Text can be included in these collages, which makes them a great way to share about your year with loved ones. You can create a collage and share it with family and friends via social media and email.

Slideshows.

Slideshows provide a dynamic way to share lots of information with loved ones. You can create some really awesome slideshows that include pictures, video, music, and text using Microsoft PowerPoint or various online programs. These slideshows can easily be shared with loved ones via email.

Recycled cards.

If you want to send traditional cards, you can choose to purchase cards made from recycled paper. Many card manufacturers offer these, so they're easy to find and they look just as lovely and festive as their non-recycled counterparts.

Postcards.

Postcards do not require envelopes and they are made of less paper than cards, so they are a valid option when considering greener options for Christmas greetings. Additionally, postcard stamps cost less than regular stamps, which makes them a little easier on the wallet.
Personally, I'm a little leery of trying some of these ideas. Many of them will only work if card recipients have internet access and email (or social media) accounts. Though most of my loved ones have these things, not all of them do. Moreover, I've never really been able to get into things like e-cards. I've always felt that even sophisticated e-cards have a spammy, impersonal feel.
Given that the Christmas cards I send this year will contain a birth announcement for the baby we will welcome in October, I want them to be special. I think I'll choose to use recycled cards, but I'll continue exploring alternatives for next year.
What do you think? Do you like to send and receive Christmas cards? Do you feel that non-paper cards are impersonal? How have you "gone green" with Christmas cards?
Shared on the following link-ups:
Saturday Soiree & Creativity Unleashed.
Save