I usually focus my Christmas in July posts on topics that will help us plan early so we won't have a chaotic Christmas season. This year I'm focusing on a slightly different topic.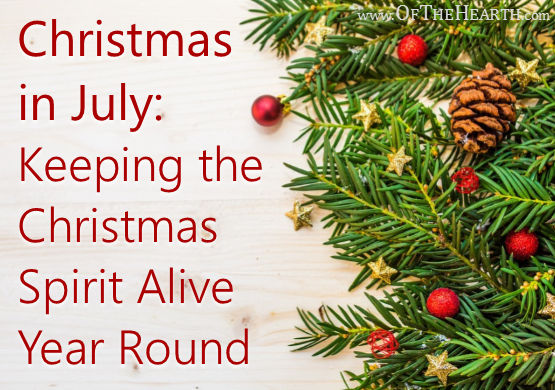 One thing I love about Christmas is the "Christmas spirit" that often surrounds us during the weeks between Thanksgiving and Christmas. We tend to be more worshipful and our interactions tend to be infused with extra excitement, joy, and generosity.
I don't know about you, but I think it would be nice if this spirit stuck with us after Christmas. I believe there are a number of things we can do so that we experience a little bit of it all year round.
How to keep the Christmas spirit alive throughout the year
Volunteer
During the Christmas season, our hearts often become more sensitive to the needs of others. This gets us out and serving others. Doing this at other times during the year is a great way to impart a little Christmas spirit into our days. This not only fosters the Christmas spirit, but it helps non-profit organizations avoid the "volunteer droughts" that are common during times of the year when we tend to be less focused on serving (such as during the summer when families are taking vacations).
Read the Christmas story
There's no reason to wait until Advent or Christmas to read the Christmas story (Luke 2:1-20) and other Scripture passages that speak of Jesus' birth (John 1:1-18, Matthew 1:18-25, Isaiah 9:6-7, Titus 3:3-7, etc.). We can read these at any point during the year for a fresh reminder of the gift of God's son!
Bake Christmas cookies
If I only make Christmas cookies at Christmas, a decade will pass before I make it through my Christmas cookie bucket list! Cookies taste yummy any day of the year, so why wait? Whipping up a batch of Christmas cookies is something that whole families can do together. As the cookies bake, we can enjoy their Christmassy scent and reminisce about our favorite Christmas memories.
Begin making Christmas crafts or handmade Christmas gifts
When the Christmas season rolls around, most of us are too busy to complete Christmas crafts or make homemade Christmas gifts. However, if we start on these months before Christmas, we'll have time to complete them and we'll get to nurture a bit of the Christmas spirit. Need some ideas for crafts or gifts? Check out these easy Christmas crafts and my Pinterest boards of homemade gift ideas.
Listen to Christmas music
I freely confess that I sometimes listen to Christmas music throughout the year. There are a number of Christmas songs that I really enjoy and I certainly benefit from hearing the lyrics year round. I make this last statement because I'm not listening so songs like "Jingle Bells" or "Deck the Halls." I'm listening to songs that speak of Jesus' birth and his saving grace. These help me be increasingly thankful for God's gift of Jesus. Here are a few of my favorites (affiliate links):
Spend time with family
We often celebrate Christmas by sharing meals and activities with our families. We don't have to wait for a holiday to do these things! We can invite family members over for meals at any point during the year. While together we can do the same types of things we might do around Christmas: Tell stories, play games, make decorations, etc.
Final thoughts
Christmas wouldn't be as special as it is if we celebrated it all year long. Therefore, I'm not advocating that we leave up decorations all year or that we continuously read through Jesse Tree readings (or other Advent readings). However, these little actions I've describe above can help us experience some very beneficial aspects of the Christmas spirit without taking anything away from the holiday.
Would you like to experience the Christmas spirit all year long? What are some ways you think we can make this happen?
Shared at the following:
AIM Link Party, Awesome Life Friday, and Friday Frivolity.Save
Save
Save
Save
Save
Save
Save
Save
Save