The cost of Christmas gifts can really add up. In today's installment of Christmas in July 2014, we'll look at a novel way to pay for Christmas gifts. If you missed the initial installment (which describes the purpose of Christmas in July), you can read it here.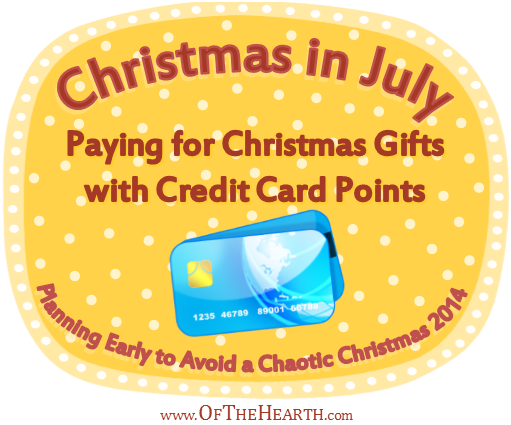 Credit cards are a contentious subject, especially among individuals who seek to be free of debt. Some individuals shun them completely. My husband and I, on the other hand, do not find credit cards to be in conflict with our goal of debt-free living. If used judiciously, they do not lead to debt.
In reality, we use our credit cards quite often. As a result, we don't have to pay for Christmas gifts. Here's how:
We are selective about which credit cards we have. None of our cards have annual fees and all of them offer rewards programs where we earn points with each purchase we make.
We use the cards on purchases we would make even if we didn't have the cards. We charge routine expenses on our cards (gasoline, groceries, car insurance, etc.). We do not charge items simply because we have available credit.
We pay off our cards in full each month. We do not carry balances on our cards, so we are not charged interest.
Each Christmas we use the points we've accumulated during the past year to purchase Christmas gifts. We're able to apply points to the purchase of various gift cards and products online or to reimburse ourselves for purchases made in person. For two years now, we have been able to purchase almost all of our Christmas gifts using credit card points! We do not have to save up throughout the year or draw money from our monthly budget to make these purchases.
Because the credit cards do not cost us anything (no fees and no interest), we're essentially getting the Christmas gifts for free!
This approach works well for us, but it is not for everyone. I would not recommend this strategy for those who have credit card debt or those who are not disciplined enough or not financially capable of paying off their cards each month. If you're in one of these situations, it'll only cause problems for you. However, if you're able to use your credit cards in a manner similar to how we use them, then this might be a great way for you to pay for Christmas gifts.
What strategies do you use to pay for Christmas gifts each year?
Shared on the following link-ups: