Welcome to the second installment of Christmas in July 2013. If you missed the initial installment, which included an explanation of the purpose of Christmas in July, you can see it here.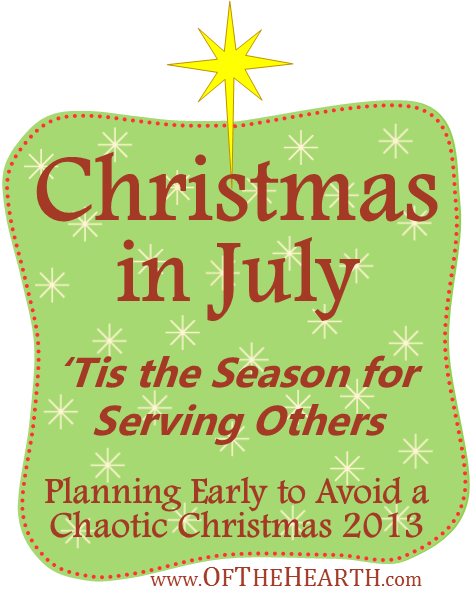 As Christmas approaches and we start contemplating Christ's birth, our hearts often become increasingly sensitive to the needs of others. Unfortunately, I tend to be pretty ineffective at serving others around Christmas. I'll either get too carried away with baking, shopping, and spending time with family that I don't have time to serve or I'll try to help out with every service activity in need of volunteers.
I'm considering in advance the service opportunities that will be available around Christmas. This will enable me to budget my time so I'm sure to participate in a few activities without becoming overwhelmed and spread too thin. The examples listed below are the proverbial tip of the iceberg. Please feel free to use the comment section beneath the post to suggest additional ways to serve during the Christmas season.
Ways to serve others during the Christmas season
Participate in any special service activities your church sponsors (e.g., delivering blankets to the homeless, providing Christmas dinner to low-income families, delivering gifts to wounded veterans).
Invite someone who lives alone to join your family for Christmas decorating, Christmas shopping, and/or Christmas dinner.
Send a care package to a missionary family.
Offer to babysit young children so their parents can have some free time to prepare for Christmas.
Go Christmas caroling at a local nursing home or hospital.
Leave bags of nonperishable groceries on the doorstep of a family in need.
Volunteer in a soup kitchen or homeless shelter.
Take baked goods and small gifts to your neighbors.
Gather spare change from around your house and keep it in your pockets when you go out so you can help fill the Salvation Army kettles.
Ways to serve that are especially great for kids
Fill a shoebox for Operation Christmas Child. Your child will have fun choosing small gifts and packing them into a shoebox that will be delivered to a needy child in another country. You can use this opportunity to have age-appropriate conversations about global current events, such as famine, poverty, and war. Pray with your child for the little one who will receive your shoebox. The shoeboxes are collected in November so this activity doesn't add to the bustle of the Christmas season!
Participate in a clothing drive or food drive. Encourage your child to select an outfit or food items to donate. If a clothing drive accepts gently used clothes, it can be especially meaningful to have your child select an outfit from his or her closet. This provides an opportunity to discuss the value in donating a nice, well-liked outfit instead of one that is old and raggedy. Be sure to pray with your child for the individual(s) who will receive your donations.
Purchase a gift for a child on the Angel Tree or another giving tree. Your child will enjoy selecting an ornament off the tree (perhaps that of a child who is similar in age or the same gender as your child) and shopping for a fun, meaningful gift for him or her. Again, be sure to pray for the recipient of your gift.
It's a good thing that we're motivated to serve others around Christmas; however, it's also unfortunate that we don't feel just as motivated throughout the year. Most of the service ideas listed above can be completed during any season, so there's no need to wait until Christmas! Join with me in selecting one to take part in over the next few weeks.
What's your favorite way to serve others during the Christmas season? With so many options, how do you decide when to take part and when to pass on an opportunity?