Welcome to the final installment of Christmas in July 2013. You can read about the purpose of Christmas in July here. Links to the previous posts in the series are located at the bottom of this post.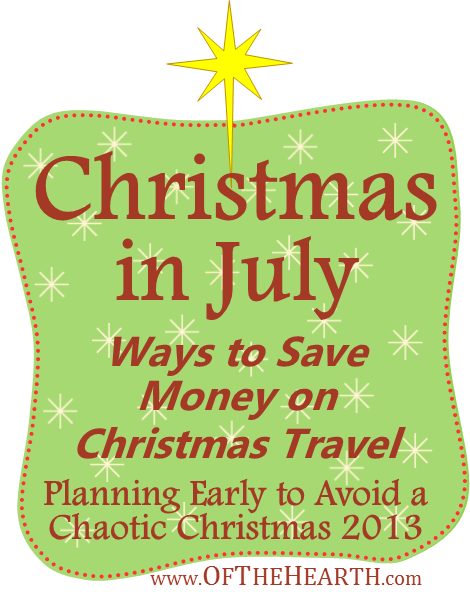 My husband and I spent some time this last weekend trying to iron out our travel plans for the Christmas holiday. Travel can be so expensive that the cost of getting to our Christmas celebration can dampen the festive feel of the occasion. Fortunately, by planning in advance, there are a number of ways to save money on holiday travel.
Air travel
Purchase airline tickets early

. In general, travel fares go up as Christmas nears. There's always a chance you can catch a great last minute deal, but there is no guarantee, so the safer option is to book your flights early.

Comparison shop

(unless you have a compelling reason to fly with a given airline, such as membership in a frequent flyer program). Check the prices of several airlines (you can use a travel website that aggregates flight information or look at the individual sites of the airlines). Don't forget to consider the cost of checking bags! Some airlines let you check a bag (or two) with the purchase of your ticket; some airlines charge you separately for each bag you check.

Decide what to do with your gifts

. If you'll be exchanging gifts with your family, you'll need to decide how to get the gifts to your destination. If your airline charges for checked bags, this can be especially tricky. Would it be easier or cheaper to purchase gifts online and have them shipped to your destination? You may need to get creative. (Don't forget to consider how you'll get any gifts you receive back to your home.)

Hitch a ride to the airport

. Paying to park at the airport (even in a remote lot where you'll be shuttled to the airport) can be quite costly. See if a friend or relative can drop you off and pick you up at the airport. If no one can help you, see if it would be affordable to take a cab or a shuttle van.

Fly when no one else wants to

. The days immediately preceding and following Christmas (December 17-24 and December 26-Jaunary 3) are popular travel days. You can save a little bit of money by flying earlier or later. Generally, you can also save by flying on Christmas day.

Consider taking another mode of transportation

. Would it be possible to travel by bus, car, or train? If so, would one of these options be more affordable?
Car travel
Get any needed maintenance done on your car and make sure your tires are properly inflated

. You'll get better gas mileage (and be safer!) when your car is in good shape.

Plan to drive a flat route

. Consider the various routes you can take to your destination. If two routes are roughly similar in length but one is flatter than the other, it might save you a bit on gas to take the flatter option.

Avoid filling up on Christmas Eve

. The price of gas often increases on Christmas Eve due to increased demand as more people take to the roads. Filling up the day before Christmas Eve may save you a bit.

Pack your own snacks and meals

. Stopping for a snack here and a meal there can cost you quite a bit. Plan ahead so you can take along snacks and meals. A small cooler and some ice can help facilitate this.
Lodging
Stay with family or friends

. You can save a significant amount of money by staying at the home of your family or friends. Staying with loved ones isn't always a possibility, but if it is, take advantage of it.

Select a hotel that serves complimentary breakfast

. If you need to stay at a hotel, try to find one that offers a complimentary breakfast. This way you'll not need to purchase breakfast each morning.

Select a hotel that provides a mini-fridge in each room

. If you have access to a fridge, you'll be able to keep food on hand for some of your meals so you can avoid the expense of eating out for every meal. Bring food with you in a cooler or run to the store when you arrive to grab some fresh fruit, cheese, bread, etc. It's an added bonus if the room also comes with a microwave.

Consider a home exchange or renting a vacation home

. You'll have to take a number of factors into consideration, but you may be able to save money by taking part in a home exchange or renting a vacation home. Do a little research on the internet to see if this would be a good option for you. This may be especially beneficial if you have multiple families traveling to one location. You can rent a home with multiple bedrooms and split the cost between the families.
That's a lot to consider! It's a good thing it's early enough to take it all in and plan accordingly. Have you found ways to save money on holiday travel? Share your tips with us!
Shared on the following link-up: