Having a clean house is refreshing and pleasant. Unfortunately, getting to a clean house can sometimes be taxing and unpleasant.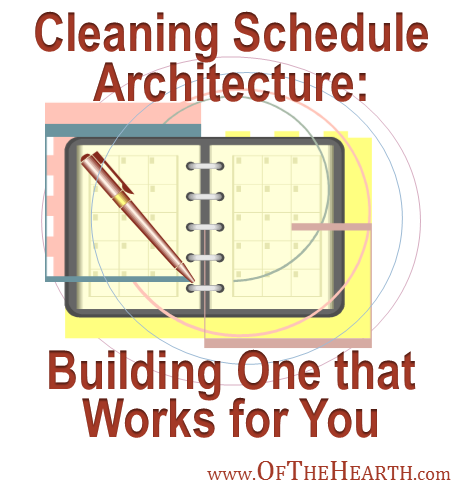 Cleaning schedules can streamline housecleaning and help you keep up with various tasks. I absolutely love lists and schedules, so soon after I got married I began looking for a suitable cleaning schedule. Though I found numerous schedules, none of them worked for me.
As is true with most routines and schedules, one size does not fit all. Thus, I developed my own schedule—one that suits the context of my life. If you haven't found a cleaning schedule that works for you or you haven't considered having one, the following may be of help.
Questions to ask when making a cleaning schedule
Do I prefer cleaning in frequent, short segments or in infrequent, long segments?

If you prefer the former, you may want to design a schedule that assigns just a few cleaning tasks to each day of the week. If you prefer the latter, you may favor a schedule that assigns all of your cleaning to just one or two days of each week.

How consistent is my schedule?

If you have a consistent schedule it may make sense to have particular tasks assigned to each day of the week. However, if your schedule isn't consistent, it may be better to have a rotating schedule that dictates the order in which you complete cleaning tasks without dictating the specific days on which you complete them.

How often does each cleaning task need completed?

Some things require more frequent cleaning than others. For example, your bathrooms may need to be cleaned more frequently than your home office. You'll want to consider which tasks require more frequent cleaning so you can accommodate this in your schedule.

Do I want to take care of deep cleaning tasks once a year or throughout the year?

If you don't want to set aside all of your deep cleaning tasks for a concentrated period of cleaning (i.e., spring cleaning), you'll want to determine how to integrate these tasks into your regular schedule.
How I created my cleaning schedule
I used my answers to the above questions to develop a cleaning schedule that works for me.
I prefer cleaning in frequent, short segments, so I've scheduled my cleaning tasks in such a way that I only spend about 30 minutes each day cleaning.
Occasionally things come up (e.g., a medical appointment, errands, delays while grocery shopping) that encroach upon the time I have available to clean. Because of this, I haven't strictly assigned cleaning tasks to specific days—I don't want to get "off schedule" when I have a busy day and don't get around to cleaning. Consequently, I've developed a revolving schedule that isn't tied to specific days.
I've determined which rooms require frequent cleaning (in my house these are the bathrooms and kitchen) and I've designed my schedule accordingly.
I prefer to take care of "spring cleaning" tasks throughout the year, so I've created a separate schedule for these.
Here's the schedule I developed for my everyday cleaning tasks: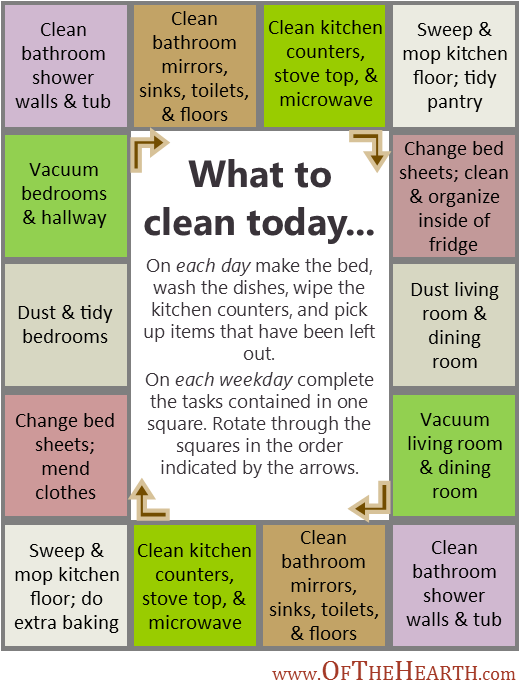 (You can see a printable version of the schedule by clicking on the above image.)
Here's the schedule I developed for deep cleaning tasks: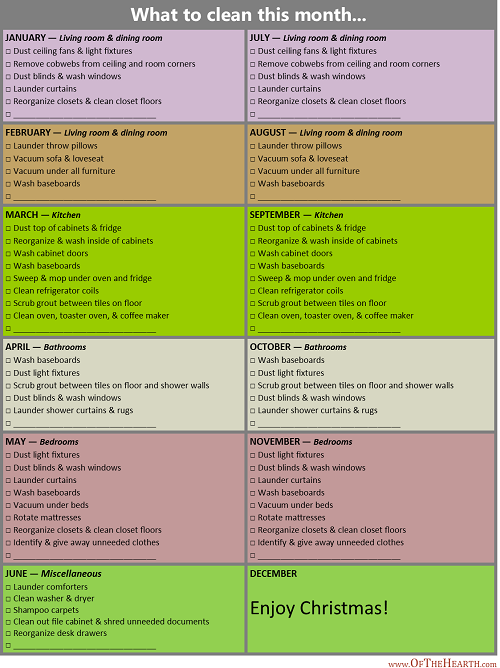 (You can see a printable version of the schedule by clicking on the above image.)
What helpful tips can you share from your experience? Do you have a cleaning schedule? If so, do you stick with it? What features make it useful?
2015 Update: I'm so pleased that others have found this schedule to be so helpful. In order to make it easier for you to customize this schedule to your needs, I've made editable versions available here:
Please let me know if you have any trouble with the files or if you have questions. I still welcome your comments on how you've customized the schedule or how it is helping you.
2016 Update: I've moved and my family has grown, so I've made some revisions to my schedules. Click here to see these revisions and to see some examples of customized versions shared by readers like you!


Shared on the following link-ups:
Empty Your Archive, Living Well Wednesday, Thrive @ Home, Hearts for Home, Wise Woman, Works for Me Wednesday, Titus 2 Tuesday, Domestically Divine Tuesday, Teach Me Tuesday, Titus 2sday, Making Your Home Sing & Living Proverbs 31.
Save
Save