I opened the door to my youngest daughter's closet the other day and realized that something had gone terribly wrong. This closet, which was once neat and organized, had become a disaster. There were untidy stacks of baby clothes on the shelves and pieces of equipment that she no longer needs were haphazardly placed on the floor. I could barely step into the closet, much less find the item I was seeking!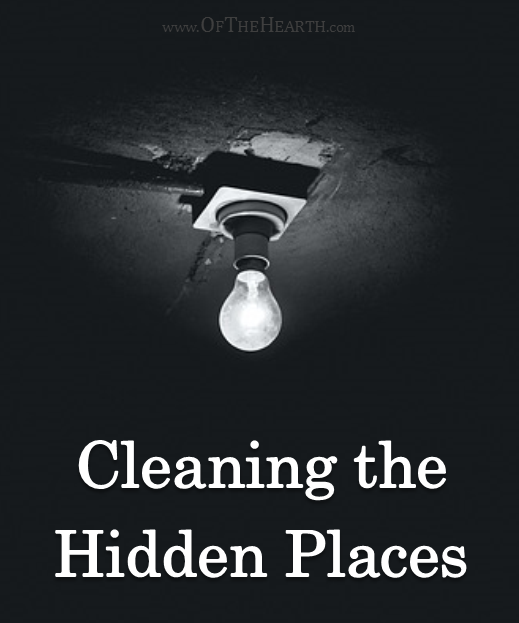 As I looked at the disorganization of this closet, I sensed the Lord reminding me that this same thing happens in my spiritual life. I may keep the commonly used areas of my life—the spaces I utilize all of the time and that other people see—neat and tidy, but the "closets"—the hidden, infrequently used spaces—have a tendency to become disorganized and downright messy.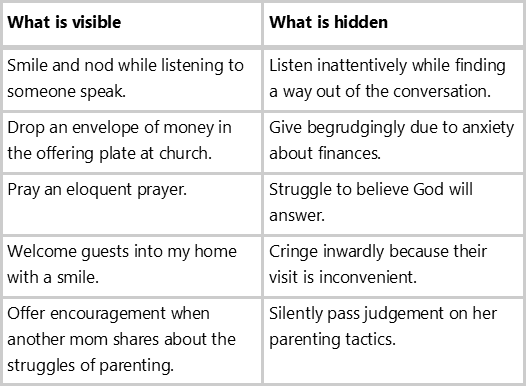 Do you see what I mean? If you think about your own life, you may also see some differences between what's visible on the outside and what's hidden on the inside. The Bible addresses this issue in Matthew 23:25-28:
"'Woe to you, teachers of the law and Pharisees, you hypocrites! You clean the outside of the cup and dish, but inside they are full of greed and self-indulgence. Blind Pharisee! First clean the inside of the cup and dish, and then the outside also will be clean. Woe to you, teachers of the law and Pharisees, you hypocrites! You are like whitewashed tombs, which look beautiful on the outside but on the inside are full of the bones of the dead and everything unclean. In the same way, on the outside you appear to people as righteous but on the inside you are full of hypocrisy and wickedness.'"
Personally, I bristle a bit at terms like "hypocrisy" and "wickedness." However, that is what's happening, isn't it? What's visible on the outside isn't always a reflection of what's happening on the inside. What's happening on the inside is sometimes sinful. This is a somber realization, and I don't want for this to be the case. What can I do to change it?
Be intentional about cleaning the hidden places
Just like I'm intentional to deep clean (i.e., spring clean) my house each year, I need to be intentional about deep cleaning my spiritual closets. Here's what this looks like for me:
I'm asking the Lord to search my heart and show me "if there is any offensive way in me" (Psalm 139:23-24).
I'm confessing and repenting of the things the Lord brings to mind (1 John 1:9, Psalm 51).
I'm memorizing Bible verses that will help me avoid these sins (Psalm 119:11).
I'm being open with others about my struggles so I have support and accountability as I change my ways (James 5:16, Proverbs 27:17).
If there were no doors on the closets in my home, then the closets probably wouldn't become disorganized. There are two reasons for this. First, I would take action to reorganize them because I'd notice when they began getting untidy. Second, I wouldn't want guests to see them in disarray, so I'd be sure they looked good when others visited.
These two things are also true of my spiritual closets. If I examine them frequently, then I'll be able to take action because I'll notice they are untidy. If I let a friend in on what's happening in them, then I'll do a good job cleaning them up because I have accountability. Because of this, the first and last bullet points above are particularly fitting anchors to the process of deep cleaning these hidden areas.
Do you have any closets that have become untidy? What do you think are the best ways to clean these?
Shared at the following:
Monday's Musings, Coffee and Conversation, Grace and Truth, and The Art of Homemaking.
Save
Save
Save
Save
Save
Save
Save