After a clothes iron has been used for some time, residue (clothing fibers, hard water deposits, dust, etc.) builds up on its soleplate. This residue causes the iron to drag and can sometimes stain clothing.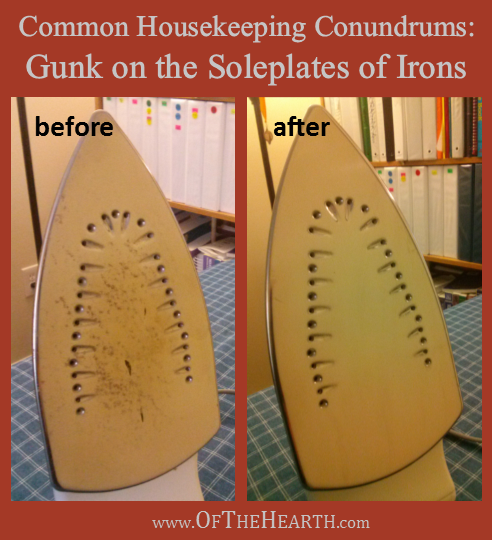 We were experiencing this problem, so I did some research and came across several suggestions for how to clean the soleplate. I applied a few of these and now my iron looks brand new!
Cleaning the soleplate of an iron with olive oil, vinegar, and salt
After making sure my iron was unplugged, I poured a small amount of olive oil onto a cotton pad and gently rubbed it across the soleplate. This removed the vast majority of the residue.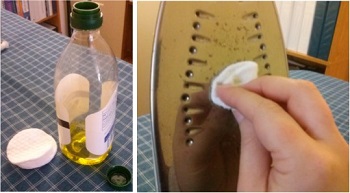 To remove the stubborn residue that remained, I soaked a cotton pad in warm vinegar and scoured the spots with salt.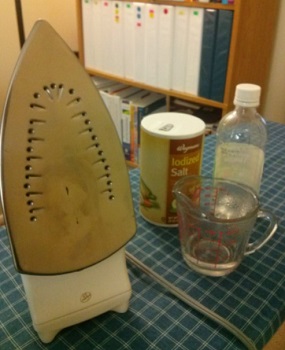 It took a minute or so of scrubbing, but I was able to remove all of the gunk. I carefully wiped the soleplate with a washcloth and warm water to make sure no traces of oil, vinegar, or salt remained. It looks great!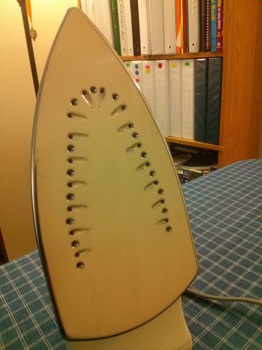 Additional strategies for cleaning the soleplate of an iron
Several other substances are purported to work well for cleaning irons. I haven't tried any of these, but I'll list them here for your consideration.
Warm water and a mild dish soap
Baking soda and vinegar
Whichever method you select, remember to check and make sure your iron is unplugged before you begin cleaning it.
Have you successfully removed gunk from the soleplate of an iron? How did you do it?
Shared on the following link-ups:
Creativity Unleashed, Welcome Home Wednesday, Works for Me Wednesday, Titus 2 Tuesday, Teach Me Tuesday, Making Your Home Sing & Living Proverbs 31.