Lint can be very pesky as it accumulates in and around clothing dryers. Removing lint is a critical part of dryer maintenance.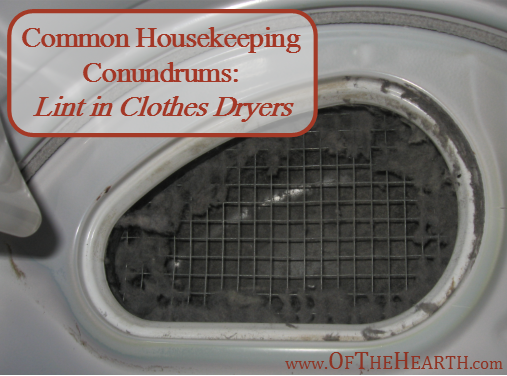 According to the U.S. Fire Administration, clothes dryers are responsible for approximately 2,900 fires in residential buildings in the U.S. each year. This risk is minimized when dryers are maintained properly. This maintenance can also save money. There is immediate savings because less energy is required to dry laundry loads in lint-free dryers that have clear vents. There is also long-term savings because these dryers will not have to work as hard to dry clothing, reducing the frequency with which they have to be replaced.
How to get rid of lint
Clean visible lint out of the lint screen before each cycle

. Be sure to also clean out the cavity that holds the lint screen (I usually use the extension tools on my vacuum to do this). Deep clean the lint filter by scrubbing it with a brush and rinsing it with water every 6 months.

Periodically clean behind and beneath the dryer where lint can accumulate

. As you do this, inspect the dryer vent to make sure it is not crushed or kinked.

Periodically inspect the outside opening to the dryer vent

. Make sure the opening has a protective cover to keep out rain, snow, dirt, and pests (birds, insects, etc.). Remove accumulated lint and debris from the protective cover.

Sweep lint out of the vent hose every 6-12 months

. Before beginning, unplug the dryer from the wall outlet. Carefully disconnect the vent hose from the back of the dryer. Use a long-handled nylon brush to sweep out the lint that has accumulated (you can also carefully use the extension tools on your vacuum). Repeat this process at the external opening of the vent. Special tools are available that can help you complete this process quickly and efficiently.
Other tips for the safe and efficient use of dryers
Use metal dryer vents. Coiled-wire and plastic vents tend to sag and trap lint. Lint is less likely to build up in smooth metal vents.
Periodically examine the electrical plug and outlet to make sure the plug is not frayed and that it is firmly connected to the outlet. If your dryer is gas powered, have it inspected annually by a professional.
Remove clutter from the area surrounding the dryer.
Do not operate the dryer if the lint screen is missing or damaged.
Unplug the dryer if you will be away from home for a long period of time.
Do not dry items that contain labels that state they should be dried away from heat or any items that contain plastic, foam, or rubber.
Avoid drying materials that have been in contact with flammable substances (e.g., oils, gasoline, alcohol). Wash these items more than once and line dry them in a cool, well-ventilated area.
Do not use liquid fabric softeners on items made of fleece, terry cloth, or velour. Liquid fabric softeners can accelerate the burning speed of these fabrics.
When purchasing a new dryer, consider selecting one that uses a moisture sensor rather than an ordinary thermostat. Thermostat-dependent dryers often run longer than is required to dry clothes. If you have a dryer with a moister sensor, occasionally wipe the sensor with a soft cloth or cotton ball and rubbing alcohol to keep it functioning accurately.
Do not run the dryer when you are away from home or when you go to sleep.
For additional information on dryer maintenance, visit the websites of the U.S. Fire Administration and the Association of Home Appliance Manufacturers.
Do you routinely clean lint from the lint trap of your dryer? What about from the dryer vent? What tips can you share for maintaining clothes dryers?
Shared on the following link-ups:
Empty Your Archives, Frugal Days, Sustainable Ways, Works for Me Wednesday, Titus 2 Tuesday, Teach Me Tuesday, Titus 2sday and Making Your Home Sing.