I have loved having a stash of freezer meals available during the last couple of months as I've adjusted to life with a newborn and a toddler. Because of this, on my most recent menu I included a number of "cook once, eat twice" items that would yield freezer meals.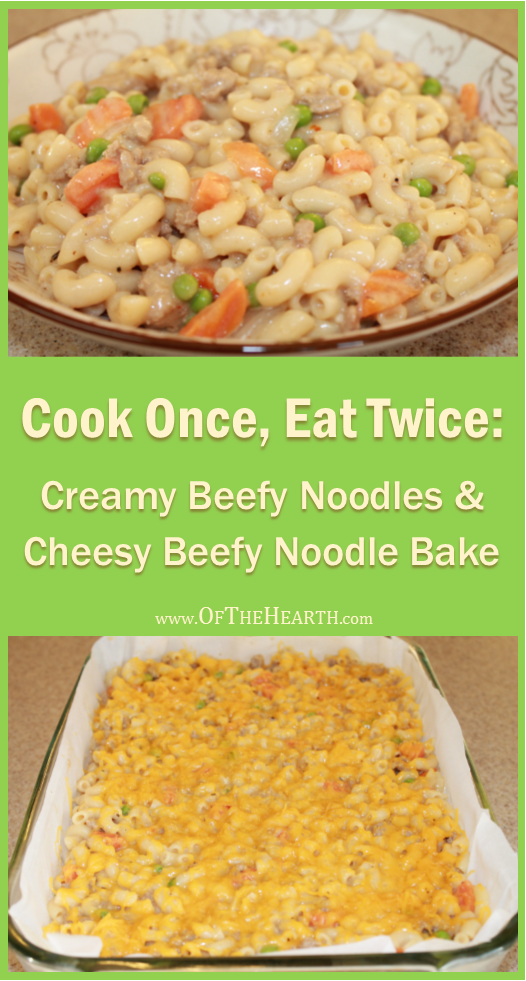 Using affordable ingredients, this easy-to-follow recipe yields two flavorful, hearty meals: Creamy Beefy Noodles and Cheesy Beefy Noodle Bake.
Ingredients
2 lbs. ground beef
1 large onion, chopped
4 cloves garlic, minced
32 oz. beef broth
8 cups water
6 cups macaroni pasta
3 cups frozen mixed vegetables
4 tablespoons flour mixed into 5 tablespoons of water
Several dashes of salt and pepper
3 teaspoons Italian seasoning mix
2 teaspoons paprika
½ teaspoon red pepper flakes
1 ½ cups sour cream
1 ½ cups shredded cheese
A splash of milk
Instructions
Brown the meat in a stockpot with the onion and garlic; drain (if needed).
Add the broth and water and bring to a boil. Stir in the pasta. Cover and simmer on medium-low heat for 5 minutes. Add in the veggies and flour mixture, then simmer for an additional 5-7 minutes or until the pasta and veggies are tender and the small amount of liquid that remains has thickened. Remove from the heat and season with the salt, pepper, Italian seasoning, paprika, and red pepper flakes. Stir in the sour cream.
To prepare the bake, spoon some of the beef-noodle mixture into a lightly greased 9 x 13 inch baking dish until it is halfway full. Sprinkle with half of the shredded cheese. Top with additional beef-noodle mixture until the baking dish is full. Sprinkle with the remaining cheese. Cover and freeze. Thaw when ready to use, add a splash of milk to keep it creamy, cover loosely, and place in a 350° oven for 35 minutes or until thoroughly heated. Yield: 6 servings.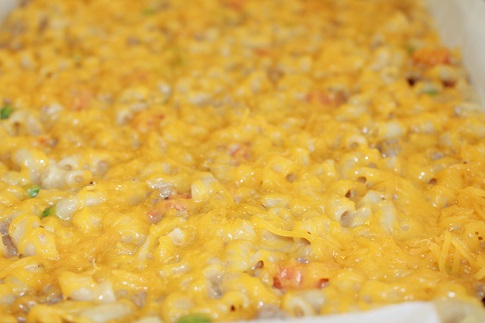 Serve what remains in the stockpot for today's lunch or dinner. Yield: 6 servings.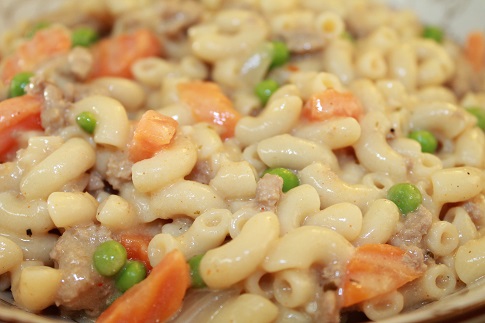 Notes
For me, the most difficult part of preparing this meal was wrestling the stockpot out of the cabinet! I love that it is so easy to make and that you end up with two large, tasty meals. The ingredients for this dish cost approximately $16.54. Because you get 12 servings out of it, this means each serving costs only $1.38!
As you can see from the pictures, I like to line the 9 x 13 inch baking dish with parchment paper before placing the beef-noodle mixture in it. This is because I only have a few baking dishes of this size, so I can't leave them in the freezer holding freezer meals because I won't have any available for everyday use. Once frozen, I tug on the parchment paper and pull the frozen casserole out of the dish. I wrap it in foil and place it back in the freezer where it holds its shape. I remove the foil and place the casserole right back in the baking dish when I'm ready to bake it. This recipe does contain sour cream, which tends to separate when frozen, but I've found that this doesn't cause much of a problem with this dish if it is slowly thawed in the fridge and you add that splash of milk before baking it.
What do you think? Would your family enjoy these affordable, easy-to-prepare dishes?
Do you prepare any cook once, eat twice recipes?
Shared at the following:
Weekend Potluck, Creative Gallery, Share the Love, Monday's Musings, The Art of Homemaking, What's for Dinner?, Tuesday Talk, Tuesdays with a Twist, Share the Wealth, and Making Your Home Sing.
Save
Save
Save
Save
Save
Save
Save
Save
Save
Save
Save
Save
Save
Save
Save