This recipe shares some similarities to the cook once, eat twice recipe for Creamy Beefy Noodles and Cheesy Beefy Noodle Bake that I shared a couple of weeks ago. Like that recipe, this one is easy to prepare and uses affordable ingredients.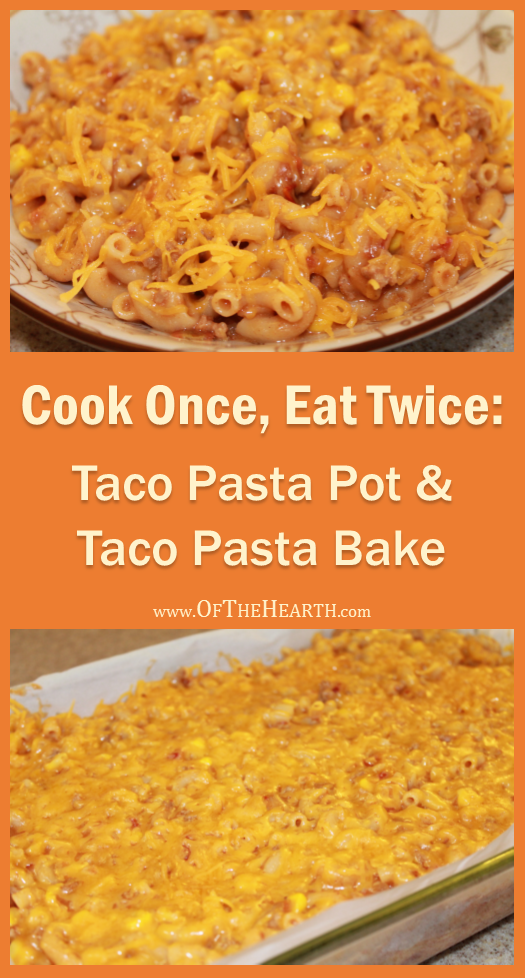 However, due to taco seasoning, this dish has a zesty flair. Given its flavor and affordability, this one will be a hit with you and your family!
Ingredients
2 lbs. ground beef
1 large onion, chopped
4 cloves garlic, minced
32 oz. beef broth
5 cups water
6 cups macaroni pasta
26 oz. diced tomatoes
2 cups frozen corn
4 tablespoons of flour mixed into 5 tablespoons of water
1 cup taco seasoning
1 ½ cups sour cream
3 cups shredded cheddar cheese
Instructions
Brown the meat in a stockpot with the onion and garlic; drain (if needed).
Add the broth and water and bring to a boil. Stir in the macaroni and diced tomatoes. Cover and simmer on medium-low heat for 6 minutes. Add in the corn and flour mixture, then simmer for an additional 5-7 minutes or until the pasta is tender and the liquid that remains has thickened. Remove from the heat and stir in the taco seasoning and sour cream.
To prepare the bake, spoon the taco pasta into a lightly greased 9 x 13 inch baking dish until it is halfway full. Sprinkle with 1 cup of the shredded cheese. Repeat so you have 2 taco pasta-cheese layers. Cover and freeze. When ready to use, thaw and place in a 350° oven for 35 minutes or until thoroughly heated. Yield: 6 servings.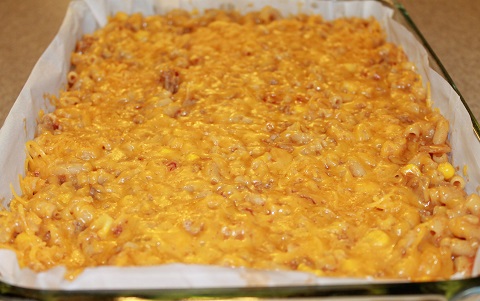 Dish up what remains in the stockpot onto plates for today's lunch or dinner. Sprinkle with the remaining shredded cheese before serving. Yield: 6 servings.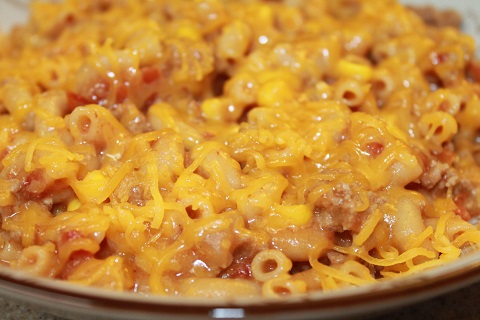 Notes
I love that this recipe is prepared in one pot and that it yields two large meals. It is good when prepared as described above, but you can make some small changes to give it a little extra pizzazz: Use a couple cans of Rotel® instead of plain diced tomatoes, add black olives, top with crushed tortilla chips, etc. Another thing I really appreciate about this dish is its price tag. The ingredients to prepare it cost approximately $19.68, which means each serving costs just $1.64.
As I've noted previously, I like to line the 9 x 13 inch baking dish with parchment paper before placing the pasta in it. Once frozen, I tug on the parchment paper and remove the frozen casserole from the dish. I wrap it in foil and place it back in the freezer where it holds its shape until I'm ready to use it for dinner. I simply remove the foil and place the casserole right back in the baking dish before baking it in the oven.
Would your family enjoy these convenient, taco-flavored meals?
Shared at the following:
Coffee and Conversation, What's for Dinner?, and Weekend Potluck.
Save
Save
Save
Save
Save
Save
Save