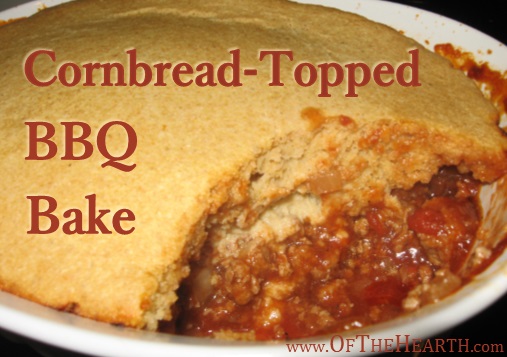 When I first saw this recipe, I skipped over it because I'm hesitant to put cornbread on our menu. I'm not a huge fan of it, plus corn is so prevalent in the typical American diet and so much of the corn grown in the U.S. is genetically modified. However, I decided to give it a try after I came across non-GMO cornmeal in a local grocery store.
I'm glad I gave it a try! This easy-to-prepare dish is flavorful, filling, and affordable.
Cornbread-Topped BBQ Bake
Adapted from this recipe at kraftrecipes.com.
Meat and sauce ingredients
-1 lb. ground turkey
-1 medium onion, chopped
-2 teaspoons minced garlic
-2/3 cup BBQ sauce
-2 cups Pomi diced tomatoes or 1 (14.5 oz.) can diced tomatoes
Cornbread ingredients
-2/3 cup cornmeal
-2/3 cup whole wheat flour
-1 tablespoon honey or sugar
-1/2 teaspoon salt
-3/4 teaspoon baking powder
-1/2 teaspoon baking soda
-1 1/2 tablespoons olive oil
-1 cup milk
Instructions
Preheat the oven to 375°F. Cook the turkey, onions, and garlic in a large skillet over medium heat until the turkey is no longer pink, stirring frequently. Add the BBQ sauce and tomatoes; stir. Simmer for 10 minutes.
While the meat mixture is simmering, mix the dry ingredients for the cornbread in a medium bowl. Add the milk and oil; stir until just blended.
Spoon the meat mixture into a 1 1/2 quart casserole dish or an 8-inch square baking dish. Pour the cornbread batter over the meat mixture; carefully spread the batter so it covers the meat.
Bake for 20 to 25 minutes or until the cornbread is golden brown. Yield: 6 servings.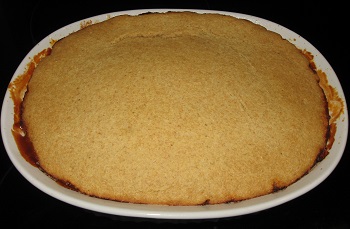 Notes
This is a stick-to-the ribs sort of dish! It leaves us feeling full and satisfied for hours. We generally don't use the barbecue grill during the winter, so this is a nice way to be able to enjoy the flavor of BBQ sauce during the winter months.
One of the best things about the dish is that it's affordable. The ingredients cost $6.64, which means each serving costs just $1.11. We serve a vegetable on the side (usually green beans), so this brings the price of each serving to $1.28. Give this a try next time you need a budget-friendly meal that is still hearty and flavorful!
Shared on the following link-ups:
Making Your Home Sing, Weekend Potluck, From House to Home & Whatever Goes Wednesday.