Homemade foods tend to be healthier and often cost less than their prepackaged counterparts. Thus, whenever possible, I try to make homemade varieties.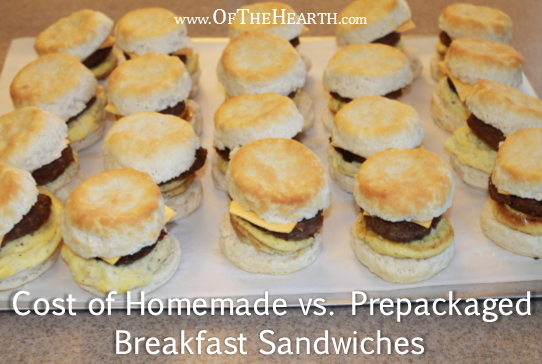 Sometimes I wonder if it is really more affordable to make homemade versions. This week my husband and I crunched some numbers so we could compare the cost of homemade versus prepackaged breakfast sandwiches.
We purchased all of the components needed to make biscuit breakfast sandwiches. In order to make it easy to calculate the costs of the individual components, we purchased frozen biscuits and rolls of breakfast sausage instead of preparing these from scratch. We spent $15.20, which allowed us to make 20 breakfast sandwiches.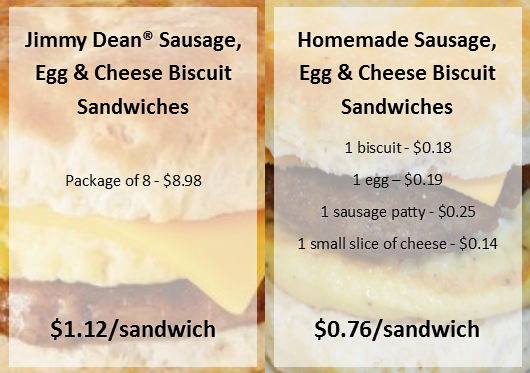 Honestly, I was surprised that the homemade versions cost $0.36 less per sandwich than the prepackaged versions. I assumed they would cost less, but I thought it would be just a few cents less. If we had purchased 20 prepackaged sandwiches instead of making our own, we would have spent $22.40. That's $7.20 more than we spent on the homemade ones!
After making the sandwiches, I wrapped them in plastic wrap and placed them in the freezer. My husband loves to eat one before work in the morning, so we pull one out of the freezer before bed so it can thaw in the fridge overnight. It then takes a short time in the microwave (about 45 seconds) to heat.
Do you make a lot of homemade foods? Which save you the most money?
Shared at the following link parties:
Coffee and Conversation, Think Tank Thursday, From House to Home, Shine Blog Hop, Creativity Unleashed, Inspiration Spotlight, Living Proverbs 31, Tuesdays with a Twist, Share The Wealth, and Home and Garden Thursday.