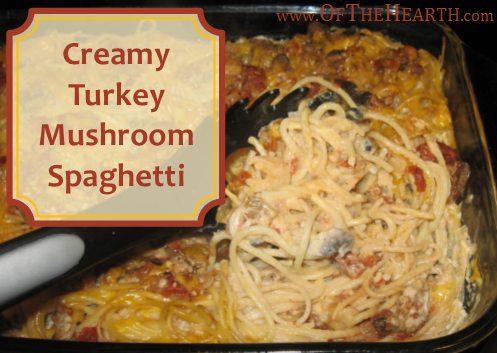 This hearty, cheesy dish is one of my favorite casseroles. I've been making it for so long that I can't remember where I initially came across the recipe. Regardless of where it originated, I'm glad I found it!
Ingredients
16 oz. spaghetti pasta
½ lb. ground turkey
4-6 mushrooms, sliced
1 medium onion, chopped
1 tablespoon minced garlic
2 cups Pomi diced tomatoes or 1 (14.5 oz.) can diced tomatoes
Several dashes of salt and pepper
1 tablespoon Italian seasoning mix
2 cups homemade cream of mushroom soup or 1 (10.75 oz.) can condensed cream of mushroom soup
1 cup milk
½ cup water
½ cup grated parmesan cheese
2 cups shredded cheddar cheese
Instructions
Preheat the oven to 350 degrees F. Bring a large pot of lightly salted water to a boil. Add the spaghetti and cook for 8-10 minutes or until al dente.
While the pasta is boiling, brown the turkey with the mushrooms, onion, and garlic in a large skillet. Once the meat is thoroughly cooked, add the tomatoes, salt, pepper, and Italian seasoning. Simmer for 5 minutes.
Once the pasta has finished cooking, drain it and return it to the pot in which it was boiled. Stir the cream of mushroom soup, milk, water, and parmesan cheese into the spaghetti.
Grease a 9×13 inch baking dish. Place half of the spaghetti mixture into the dish and top with half of the meat mixture. Sprinkle with 1 cup shredded cheese. Repeat.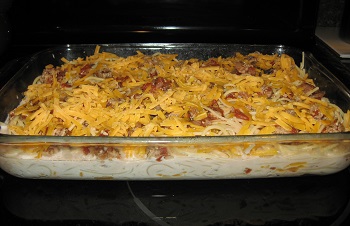 Cover loosely with foil and bake for 20 minutes. Remove the foil and bake for an additional 10 minutes. Yield: 6 servings.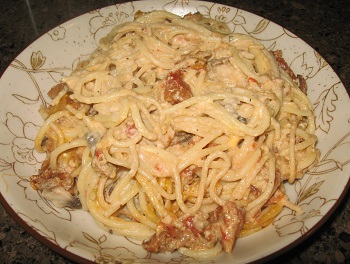 Notes
We really enjoy the creamy texture of this casserole. It has a great flavor, too. The parmesan and cheddar cheeses are a perfect complement to the mushrooms.
No, the ½ pound of ground turkey listed as an ingredient isn't a typo. I really do use only this small amount. You're welcome to use more, but I find that it is pretty filling even when I cut back on how much meat is in it (I use less meat in some dishes to help our grocery budget go a bit further). The ingredients for this dish cost $8.89, which is $1.48 per serving. Consider giving this one a try next time you need a simple but hearty casserole!
Shared on the following link-ups:
Weekend Potluck, Thrive @ Home, Accidentally Wonderful Wednesday & Whatever Goes Wednesday.