Since writing several months ago about home decorating considerations for Christian women, I've spent a lot of time thinking about my home. If the comments left on that post are any indication, it also struck a chord with many of you.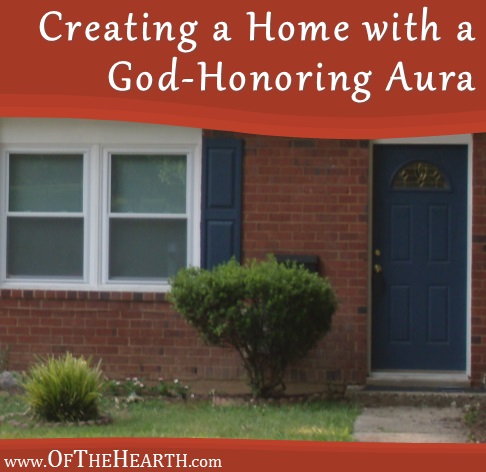 The way in which a home is decorated contributes to its overall aura—the quality or feeling it emits. Like every woman I know, I want to have a lovely home. However, I don't want this loveliness to be superficial.
I want my home to be a place to which my husband is eager to return after work (Proverbs 12:4, Proverbs 31:27). I want it to be a place where the members of my family experience love and encouragement (Romans 14:19, Ephesians 5:21-33, Ephesians 6:1-4). I want it to be a place where guests feel welcomed and embraced (Romans 12:13, 1 Timothy 5:10, 1 Peter 4:9). I want the surroundings and interactions within it to promote peace and facilitate growth and learning (Hebrews 12:14, Deuteronomy 6:5-9).
How can I ensure my home emits the aura I just described? I believe an initial step is to identify the general factors that comprise a home's aura.
Factors that comprise a home's aura
Sounds

. Are the voices in my home engaged in arguments or are they engaged in respectful discussion? Do I hear cruel insults or edifying encouragements? Do the lyrics of the music we play speak of anger, violence, and sex or do they speak of God's grace and glory? Do I hear doors being slammed in anger or backs being patted in commendation?

Smells

. Does my home smell like the trash should have been taken out yesterday or is the air fresh? Does the odor of dirty laundry waft from the bedrooms or does the scent of fresh linens predominate?

Sights

. Do I see clutter in my home that prevents the completion of everyday tasks or do I see a setup that facilitates productivity? Are surfaces covered in dirt and dust or are they well kept? Do the images on the walls and the books on the shelves demonstrate a secular lifestyle or a Biblical one?

Tactile sensations

. Is the temperature in my home uncomfortable or comfortable? Are there soft blankets to provide warmth in the winter and fans to provide breezes in the summer? Are the sheets on the beds rough or smooth? Are the couches and chairs stiff or soft?

Tastes

. Are the meals on my table unappetizing or are they tasty? Are the meals laden with corn syrup and unhealthy fats or do they contain protein, complex carbs, and healthy fats? Are leftovers served in an unsavory state or are they revitalized?
I don't know about you, but I feel a little inadequate as I read what I've written above. Rest assured that I'm not trying to set unrealistic standards or point out shortfalls, nor am I saying that having a messy home or serving fast food on occasion means you're being an awful steward of your home and family.
What I am trying to do is stimulate thinking and catalyze growth. Over the next several weeks I'll dedicate a post or two to some of these factors as I closely consider each one and pinpoint practical ways that Christian women (and their families) can manipulate them in order to create homes with God-honoring auras. I hope you'll join me!
How would you describe your home's aura?
Shared on the following link-ups:
Thriving Thursday, Welcome Home Wednesday, Titus 2 Tuesday, Teach Me Tuesday, Titus 2sday, Living Proverbs 31, Making Your Home Sing & Essential Fridays.