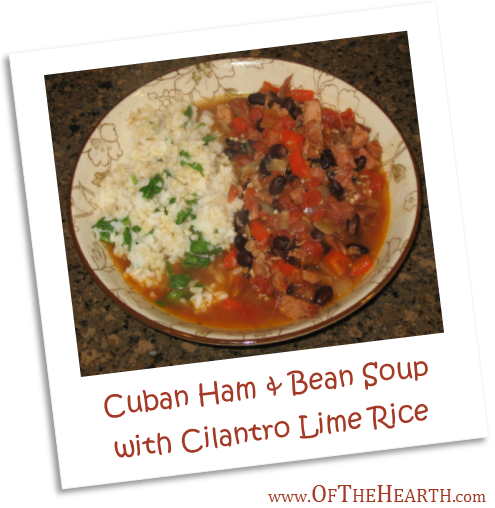 Earlier this week I pulled from the freezer what remained of our leftover Christmas ham. The ensuing dish was amazing!
Soup ingredients
1 tablespoon olive oil
1 medium onion, chopped
2 tablespoons minced garlic
1/2 of a red bell pepper, seeded and chopped
2 cups cooked ham, chopped
2 cups cooked black beans or 1 (15 oz.) can black beans
2 cups chicken broth
2 cups Pomi diced tomatoes or 1 (14.5 oz.) can diced tomatoes
1 teaspoon cumin
2 tablespoons lime juice
Salt and pepper
Rice ingredients
2 cups instant rice (brown or white)
2 cups water
2 tablespoons lime juice
1/2 cup chopped cilantro
Instructions
Warm the olive oil over medium heat in a large pot or Dutch oven. Add the onion, garlic, and red pepper. Sauté 3-5 minutes. Add the ham, beans, broth, tomatoes, cumin, and lime juice. Bring to a boil, then reduce the heat and simmer for 40 minutes. Add salt and pepper to taste before serving.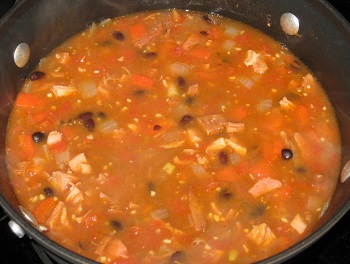 While the soup simmers, bring the 2 cups of water to boil in a medium sauce pan. Add the rice and lime juice to the boiling water. Cover with a lid and remove from the heat. After 5 minutes, gently fold in the chopped cilantro.
Serve the rice and soup together in bowls. Yield: 5 servings.
Notes
This dish is very flavorful! It has both sweet and savory undertones. My husband, despite having pretty simple tastes, loves it! In addition to the flavor, I love that it is so nutritious and easy to prepare. The cost of the ingredients for this dish was $6.58, which is $1.32 per serving. We'll be making it again soon!
What is your favorite way to use leftover ham?
Shared on the following link-up: