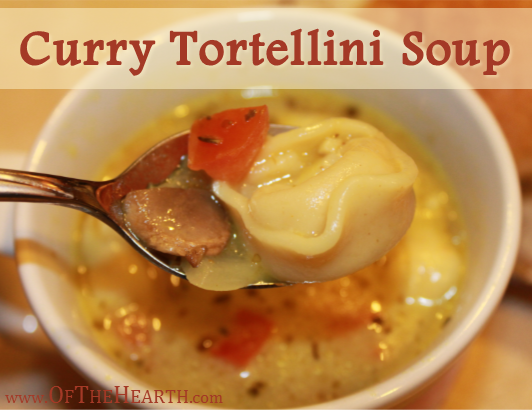 I made this recipe for the first time back when my husband and I were dating. We both loved it, so I've made it frequently since then. It's easy to prepare, so I often make it on nights when we're short on time.
Ingredients
(Adapted from the Mushroom Tortellini in Curry Cream recipe in the Easy Soups & Stews cookbook.)
1 onion, finely chopped
2 teaspoons curry powder
1 garlic clove, minced
1 tablespoon olive oil
1 (32 oz.) carton reduced sodium chicken broth
1 (14 oz.) can coconut milk
1 (16 oz.) package frozen cheese or mushroom tortellini
1 cup sliced mushrooms
1 teaspoon dried parsley
1-2 Roma tomatoes, chopped
Instructions
In a large saucepan, cook the onion, curry powder, and garlic in warm oil for about 3 minutes or until the onion is tender.
Stir in the chicken broth and bring to a boil. Reduce the heat to medium and stir in the coconut milk, tortellini, mushrooms, and parsley. Cook and stir about 9 minutes or until the pasta is tender.
Stir in the tomato and cook until heated through. Yield: 4 servings.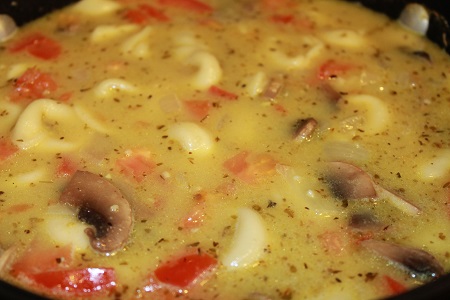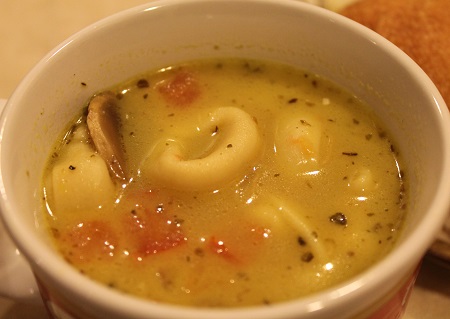 Notes
This dish is very flavorful and filling. I love when we have it on the menu because it can be prepared quickly, but it still has an air of sophistication.
The ingredients for this dish cost approximately $8.98, which is $2.25 per serving. We often eat rolls or some other bread alongside it. If you enjoy the flavor of curry, then you definitely want to give this one a try!
What soups are you enjoying this winter?
Shared on the following link-ups:
Weekend Potluck, Creativity Unleashed, Home and Garden Thursday, Frugal Crafty Home, Motivation Monday, One Project at a Time & Titus 2 Tuesday.