What basic supplies would you need to survive the immediate aftermath of a disaster? Once a disaster is imminent or in progress, it's too late to acquire these supplies. However, by taking the time to assemble and maintain a disaster preparedness kit now, your household will have survival supplies on hand.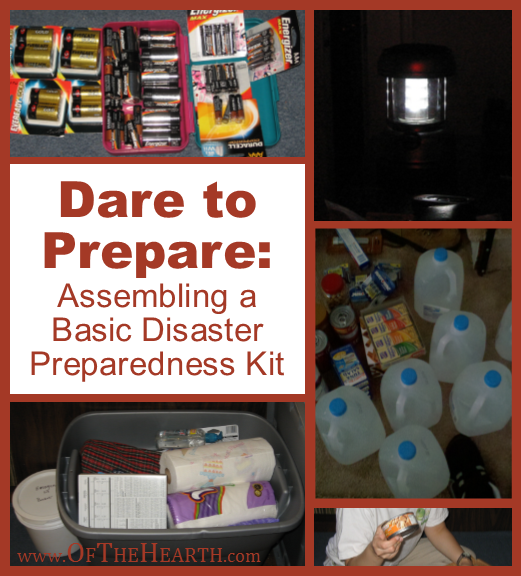 Experts recommend that each of us have enough supplies to care for our households for a minimum of three days. Last week we looked at what types of disasters could impact our respective communities. In light of this knowledge, let's consider which supplies should be included in a disaster preparedness kit.
Essential items to include in a disaster supply kit
Water

. Each family member will need one gallon of water per day to meet his or her hydration and hygiene needs. (If you live in a hot climate, you may want to store a little more than this.) If you have pets, remember to store extra water for them.

Food

. Select foods that are non-perishable and require little or no preparation. Canned fruits and vegetables, nut butters, granola bars, meat jerky, crackers, tuna, and fruit leathers are good options. If you have pets, remember to store extra food for them.

Flashlights and batteries

. I recommend having at least one flashlight per member of the family. This will allow each of you to have a light source with you at all times. I like to have at least one spare set of batteries for each flashlight. It's also nice to have a couple of battery-powered lanterns so you can light a larger area such as a bathroom.

A battery-powered or hand crank radio

. Trust me that you'll want a radio to stay apprised of what's happening regarding the disaster! Reliable radios can be purchased pretty affordably (you can see one of my favorites here).

First aid kit

. You can purchase kits that range from basic to elaborate or assemble one yourself (get instructions here).

Medications

. If you take prescription medications, you'll want to have a minimum of a three day supply on hand. (Next week we'll look at how to get extra medication for your emergency kit and how to preserve medications that require cool temperatures.)

Plastic sheeting, duct tape, and dust masks

. These supplies enable you to shelter in place, patch broken windows, and build impromptu shelters. You can get plastic sheeting from home improvement stores and from online retailers such as Amazon. Having these on hand is especially relevant if you live in a location prone to industrial or technological accidents (near a nuclear power plant, chemical factory, railway, etc.).

Hygiene items

. At minimum you'll want the following hygiene supplies for safety and comfort: Toilet paper, paper towels, alcohol-based hand sanitizer, feminine hygiene products, a small bucket with plastic bags and ties, toothbrushes and toothpaste, soap, and latex or nitrile gloves. Other items that would be nice to have include wet wipes and deodorant.

Baby items (if applicable)

. Infants and toddlers will need diapers and wipes. Even if you usually use cloth diapers, you'll want to keep some disposable diapers on hand in case you aren't able to wash the cloth ones. If you use formula, you'll want to stock this, too.

Cell phone charger

. You'll likely have your cell phone on or near you when disaster strikes, but your charger may be located elsewhere. Thus, it's beneficial to keep a charger with your emergency supplies.
Auxiliary items to include in a disaster supply kit
Cash

. Having a little cash on hand is important because you may not be able to use credit or debit cards to make purchases if the electricity is out.

Basic tools

. A small toolkit with a hammer, pliers, wrench, multi-head screwdriver, and a small ax or hacksaw is beneficial in case you need to move debris or shut off utilities.

Emergency contact information and important documents

. If you're like me, you don't have many phone numbers memorized because you store them in your phone. One problem with this is that you won't be able to call loved ones, insurance agents, employers, etc. if you lose your phone! Keep a list of important phone numbers with your emergency supplies so you can make these calls. It's also good to keep copies of important documents (e.g., medical information, utility information, deed/lease to your home, passports, birth certificates, copies of insurance policies) with your kit because these documents can be easily lost in a disaster (this is a significant risk if you live in an area where natural disasters such as hurricanes, tornados, earthquakes, fires, or floods are common).

Maps

. Maps of your city and surrounding areas are useful in the event of evacuation. (This is especially relevant if you live on the coast or near a volcano.) I usually use my smart phone to access maps, but there's always the possibility that my phone can be lost or damaged in a disaster, necessitating the use of a printed map.

Blankets and/or a battery-powered fan

. If you live in an area where it gets really hot or cold, consider how to handle the temperature. The warmth provided by blankets in cold weather and the breeze provided by a fan in hot weather can be critical to survival in extreme cold or heat.

Disposable dishes

. Given that you may not have water to wash dishes, having some disposable dishes on hand is a good idea.

Entertainment items

. Being stuck without electricity can lead to boredom. Simple entertainment items such as card games or puzzle books can go a long way to alleviate boredom. Children in particular will appreciate some small toys and activities!

A whistle

. A whistle can help rescue workers find you if you end up getting trapped. This is especially relevant if you live in an area prone to tornados or earthquakes.
Important notes
Include a can opener

. If you have canned items in your kit, do not forget to include a can opener!

Consider avoiding foods that have to be heated

. A number of seemingly "ready-to-eat" foods, including some canned soups, indicate on their labels that they need to be heated to a particular temperature before they should be consumed. Try to avoid stocking these foods if you do not have a heat source (e.g., propane grill, camp stove) that can be operated without electricity or natural gas.

Be careful with candles

. Some people prefer using candles or kerosene lanterns instead of flashlights for light. This should be done with extreme caution. Flame can cause an explosion if there is a gas leak and it is also a fire hazard.
You can get disaster supply checklists from FEMA and the Red Cross. You can also print the handy checklist I've included below.
(Click on the image to view and download a larger, printable version of the checklist.)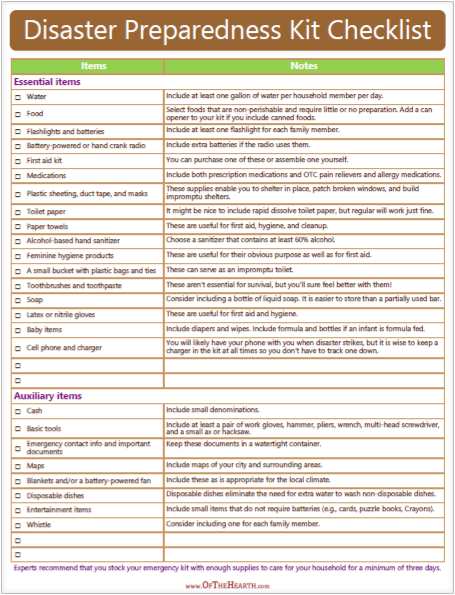 If you don't feel up to assembling a kit on your own, you can always purchase a premade kit that contains many of the basics. A wide range of kits are available.


Despite the length of the above list, it really is just the proverbial tip of the iceberg! Next week we'll go beyond the basics and consider some tricky issues such as how to afford disaster preparedness supplies, how to store the supplies if you live in a small home, how to acquire extra prescription medications to store in a kit, and how to take critical supplies with you in the event of an evacuation.
Do you have a disaster preparedness kit? Have you ever needed to use it? What supplies do you include in your kit that aren't on the above list?
Shared on the following link-ups:
Whatever Goes Wednesday, Titus 2 Tuesday, WholeHearted Wednesday, Essential Fridays, Thriving Thursday, Works for Me Wednesday, Wise Woman, & Teach Me Tuesday.
Save
Save