We're once again in the midst of National Preparedness Month. As I've done in the past years, I'm going to take advantage of this by taking a straightforward look at disaster preparedness. (Click here for links to the previous Dare to Prepare posts.)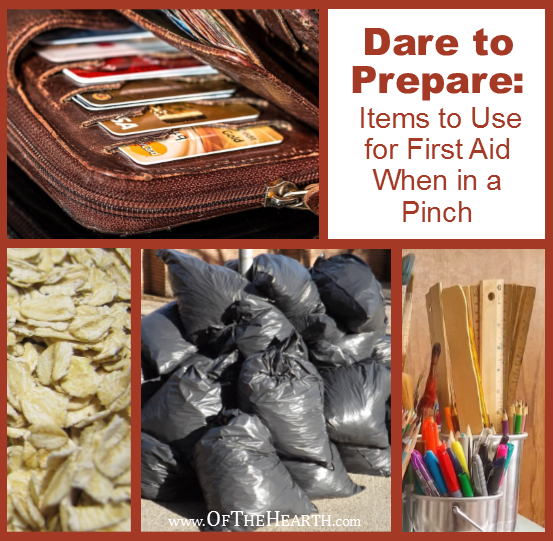 Today's topic is both practical and fun. A good first aid kit should be part of your basic disaster preparedness kit. However, in an emergency, it's always possible that your first aid kit will not contain adequate supplies to address an injury or illness that you or a loved one experience. This can also happen while camping or even during the course of everyday activities, so the following information is useful in these contexts, as well.
There are quite a few items that most of us have around the house that can function as first aid supplies when in a pinch. Here are 8 of these.
Surprising items that can be used to administer first aid
Pads and tampons.

It may sound a bit strange at first, but these feminine hygiene products make wonderful makeshift bandages. They are, after all, specifically designed to absorb blood! They also come individually wrapped, which means they tend to stay clean and are easy to transport.

Plastic cards (e.g., driver's license, credit card).

If you get stung by a bee, you may need to remove the stinger it has left behind. One effective way to do this is to use the edge of a plastic card to scrape it off. This is often a better approach than pulling the stinger out with tweezers because more venom may be released if you squeeze the stinger. Plastic cards are also useful for removing leeches.

Wooden ruler or scrap lumber.

If immediate attention from experts is not available when you or a loved one experiences a bone fracture, then you need to find a way to stabilize the break. Wooden rulers and scrap pieces of lumber are very helpful for this. You can form effective splints when you pair these with cloth strips, bandanas, and similar items.

Bandanas.

Bandanas (and similar cloths like handkerchiefs) have numerous applications in the context of first aid. As noted above, they can be used to tie splints into place. They can also be used as bandages, slings, eye patches, cold compresses, and tourniquets (though please note that tourniquets should only be used in the direst of situations).

Foods.

You can address a number of injuries and illnesses with items from your pantry. Oatmeal can be used in a bath to soothe the inflammation of a number of skin conditions, meat tenderizer can be used to neutralize the venom from a bee sting, honey can be used to soothe coughs, and baking soda can be used to treat heartburn.

Trash bags.

Trash bags come in very handy when rendering first aid. If it is raining or snowing outside, they can be used to cover first aid supplies to protect them from moisture. Similarly, trash bags can be used to make impromptu rain ponchos, to cover the ground before placing a victim on it, or to protect casts and wounds from the elements. If more suitable materials are unavailable, trash bags can even be cut in strips in order to secure splints or fashion slings. Of course, trash bags are always useful when used as they were intended—to collect the trash you generate while providing first aid!

Duct tape.

Given duct tape's vast utility, it probably doesn't surprise you to see it listed here! If needed, duct tape can be used for diverse tasks such as securing bandages and splints, creating slings, and removing splinters.

Superglue.

Doctors in emergency rooms use a skin adhesive similar to superglue to close certain wounds. This doesn't mean that household superglue is suitable for closing any and all wounds. However, there are certain wounds (small, shallow, clean cuts that are located on parts of the body that are not constantly moving) that can be safely closed with household superglue or over-the-counter skin adhesives (source).
Have you ever found yourself needing to administer first aid in a pinch? What items did you use to provide care? Even if you've never needed to administer first aid in an emergency, are there other items you would add to this list?
Shared at the following:
Coffee and Conversation and The Art of Homemaking.
Save
Save
Save
Save
Save
Save
Save