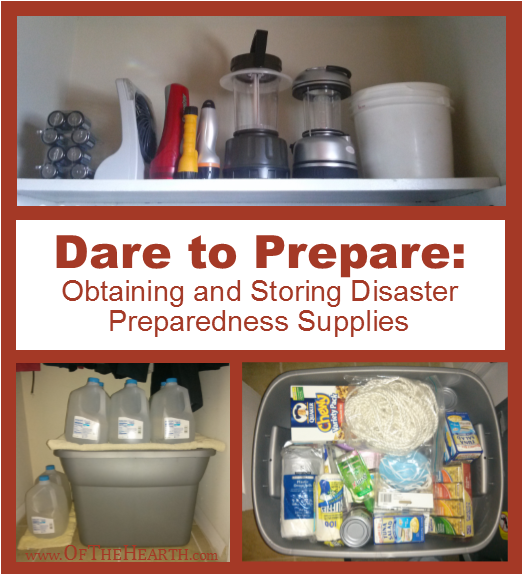 If you attempt to gather the disaster preparedness supplies we talked about two weeks ago, you'll likely encounter some tricky issues related to procuring and storing the supplies. Let's explore four of these.
How to afford disaster preparedness supplies
You may find yourself shelling out as much as several hundred dollars if you purchase all of your basic preparedness supplies at once (the cost will depend on the size of your family and what supplies you already own). If you're on a tight budget, how can you afford these supplies?
Watch the grocery store ads and take advantage of specials on needed items.
Shop for supplies while they are "in season." For example, if you need flashlights or lanterns, watch for them to go on sale at the start of summer when camping supplies are in demand.
Purchase the most important supplies first (e.g., purchase food and water before purchasing a battery-powered fan or disposable dishes).
If your family exchanges gifts for Christmas, request preparedness supplies for your gift.
Purchase generic brands and stick to the basics that are needed for survival.
How to acquire extra prescription medications for your disaster preparedness kit
If you require prescription medications, it is essential that you include these in your kit. Experts recommend you have enough medication to survive at least three days after a disaster, but I think it's best to have enough to last at least a week. (This is because a disaster could prevent you from contacting your doctor and interrupt the distribution of medications to local pharmacies.) If your medication requires refrigeration, consider how to store it if the electricity goes out.
Ask your doctor to write a prescription for extra medication for your kit. Once you get the medication, make sure to store it safely, away from temperature extremes and moisture. Exchange it with fresh medication periodically so you never have expired medication in your kit.
If your doctor won't provide a prescription for extra medication or if your insurance won't pay for it, you can build up a stock from your monthly prescriptions. Simply refill your medication as soon as you're allowed to do so (this typically occurs several days to a week before you run out of medication). Once you have the refill, begin using it and store the pills that are left from your previous refill. Your doctor may also have samples of your medication that he or she can give you for your kit. Exchange your emergency stock with fresh medication periodically so it doesn't expire.
If you use a medication that needs to be refrigerated, obtain supplies to keep it cool outside of the fridge so you'll be prepared in case the electricity goes out. Purchase reusable ice packs (keep them frozen at all times) and keep a small cooler on hand. You may want to look into products designed for cooling specific medications, such as insulin. Examples include the FRIO Cooling Wallet and the Insulin Cooler Travel Bag.
If you have diabetes, be sure to store extra glucose testing supplies and supplies for your insulin pump (if you have one).
How to take critical supplies with you in the event of evacuation
It'd be great if you could take your entire disaster preparedness kit with you in the event of an evacuation. Unfortunately, this often isn't realistic. The next best option is having a "go bag" (a bag to facilitate evacuation, not long-term survival). A go bag begins with a sturdy backpack, suitcase, or storage container with handles. It contains your important documents (e.g., property titles, insurance and medical information, contact numbers for loved ones) and small amounts of other essential items:
At least $50-$100 in cash (small denominations)
1-2 bottles of water for each family member
Snacks for each family member (energy or granola bars are good options)
Flashlight and an extra set of batteries
Battery-powered or hand crank radio (plus an extra set of batteries if the radio requires batteries)
Prescription medications
First aid kit
Regional map
Baby care items (if needed)
A blanket and raingear
It is wise to place a note on your go bag that reminds you to grab your keys and wallet so you don't rush out without them.
Just because other preparedness items aren't on this list (e.g., hygiene items, plastic sheeting, duct tape) doesn't mean they're not important. They can't be transported easily in a rushed evacuation, so they should be stored as part of the kit you'll use if stuck in your home for a few days to a few weeks.
Where to store preparedness supplies
Once you've acquired preparedness supplies, where can you store them? Some families have whole closets or shelving units available for this, but it can be a little more challenging if you live in a small home.
Place the supplies in a large storage bin and place the bin on the floor of a closet.
Store the supplies in shallow bins that slide under beds or sofas.
Clear out a dresser drawer or clear off a shelf in the pantry to make extra space to store some supplies.
Regardless of where you store your kit, be sure each family member knows where to find it. Also, consider which disasters are likely where you live so you can store the kit where it is least likely to be damaged. For example, if you live in a flood-prone region, store the kit off the floor or in watertight containers.
Do you have helpful suggestions? How were you able to acquire your disaster preparedness supplies? Where do you store them?
Shared on the following link-ups:
Saturday Soiree, Works for Me Wednesday, Capture Your Journey, Titus 2 Tuesday, Monday's Musings, From House to Home & WholeHearted Wednesday.
Save
Save