It is National Preparedness Month again, so individuals all across the country are taking steps to get their homes and communities ready for potential disasters. As I've done for the last several years, I'll be joining in by taking a straightforward look at a disaster preparedness topic.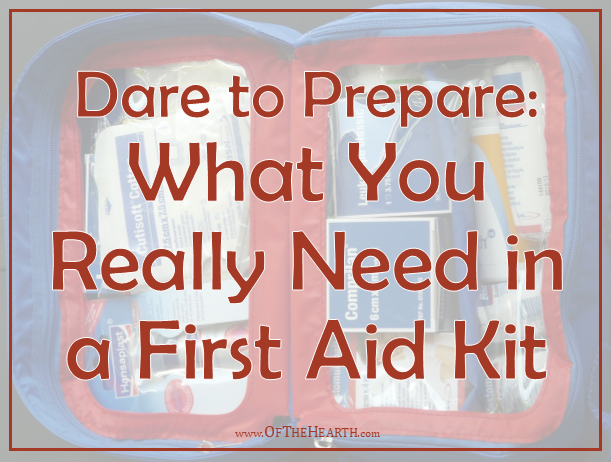 First aid kits are an essential component of disaster preparedness kits. They're also something we should have on hand in our homes and when we are out and about (regular kits are the right size for cars, RVs, campers, etc. and compact versions are perfect for carrying in diaper bags or taking along while hiking).
Preassembled first aid kits generally contain the same basic items. Most of these items are useful. However, the former nurse and public health professional in me notices that the items are often insufficient in quantity and the kits are lacking some truly important items. Thankfully, it's easy to either supplement a preassembled kit or build your own from scratch in order to have a well-stocked first aid kit.
Let's look first at the basic items that should be in any preassembled kit that you purchase and then at the essential items that are often overlooked.
Basic first aid items
According to the American Red Cross, these are the items that should be included in a basic first aid kit:
2 absorbent compress dressings (5 x 9 inches)
25 adhesive bandages (assorted sizes)
1 adhesive cloth tape (10 yards x 1 inch)
5 antibiotic ointment packets (approximately 1 gram)
5 antiseptic wipe packets
2 packets of aspirin (81 mg each)
1 emergency blanket
1 breathing barrier (with one-way valve)
1 instant cold compress
2 pair of non-latex gloves (size: large)
2 hydrocortisone ointment packets (approximately 1 gram each)
Scissors
1 gauze roll bandage (3 inches wide)
1 gauze roll bandage (4 inches wide)
5 sterile gauze pads (3 x 3 inches)
5 sterile gauze pads (4 x 4 inches)
Oral thermometer (non-mercury/nonglass)
2 triangular bandages
Tweezers
First aid instruction booklet
Additional items to include in a first aid kit
The items listed above are all great, but it's wise to include additional quantities of some of the items. Two sets of gloves are not enough. I doesn't take long for these to be used, especially if more than one person renders aid. Grab a small box of nitrile gloves (avoid latex because latex allergies are common) and keep these in the kit so you'll never be without. I'd toss in an additional absorbent compress dressing or two, a few more antiseptic wipes, and some additional gauze (clotting gauze and non-adherent gauze would be helpful additions). Also, I would make sure the adhesive bandages include some large bandages, as these are often excluded in preassembled kits.

Supplement these items with the following:
Emergency phone numbers and contact information for personal healthcare providers.

These may not be relevant in the midst of a disaster, but they are relevant for everyday incidents.

Personal medications.

You don't need to store personal prescription medications (injectable epinephrine, insulin, etc.) in the first aid kit itself, but you do need to note in the kit where these can be found. The same is true of common OTC meds (pain killers, anti-fever meds, antihistamines, and antidiarrheal meds).

Sturdy tweezers and scissors.

The tweezers and scissors in first aid kits are often flimsy. Sturdy, strong versions will be much more effective!
Elastic compression bandages.

Compression bandages are invaluable. They can be used for supporting injured joints, applying pressure to stop bleeding, securing bandages, or fashioning splints. They are pretty affordable, so grab a few different sizes to keep in your kit.

Saline and eye flush solutions.

Cuts and abrasions should be cleaned. Often the best way to do this, especially if running water isn't available, is with a saline solution. It's also helpful to have an eye flush kit on hand in case someone needs to flush debris or chemicals from his or her eyes.

Chest seal.

In the event that someone sustains a puncture wound to the chest, a chest seal may be his or her key to survival. Though it's not likely you'll need one of these, if you ever do, you'll be so glad you put one in your kit!

Disposable cup.

If someone suffers a deep puncture would (from a knife, pencil, shard of glass, etc.), it is generally recommended that the object not be removed until the person is at a healthcare facility (removing it could cause significant bleeding and/or additional damage). If you have a paper or plastic cup on hand, you can poke a hole in the bottom of this and set it over the puncturing object in order to stabilize it until medical care is available.

Tourniquet.

There are very few situations that truly require the use of a tourniquet. The improper use of one can have devastating effects. For these reasons, I'm hesitant to suggest including one in basic first aid kits. However, I've included it on this list because it would be helpful to have on hand if the rare need for one were to arise.
Candy or honey sticks.

A few small candies or honey sticks won't take up much room in your kit, but they'll make a huge difference—a potentially life-saving difference—if someone, particularly a diabetic, is experiencing hypoglycemia.

Assorted plastic bags.

Plastic bags are helpful for a number of reasons. They can be used to keep first aid supplies dry in inclement weather, to cover wet ground before placing a victim on it, to create chest seals, and to protect casts and wounds from the elements. In a pinch, they can also be cut into strips and used to secure splints or fashion slings.

Duct tape.

People joke that duct tape can fix just about everything. There's actually a lot of truth to this! Duct tape wouldn't be my first choice for securing bandages, but it is very helpful in true disasters because it is strong and has pretty good adhesive. It's also helpful for fashioning splints.

Waterproof headlamp with extra batteries.

It's hard to render first aid if you can't see. If the power goes out and it's dark outside, you'll need a headlamp for even the most simple of tasks.
Notes
There are a lot of additional things I could include here (oropharyngeal airway kit, suture kits, stethoscope, etc.). However, I'm not trying to assemble a miniature ER—the items I've listed still constitute a basic first aid kit for everyday use around the home and during recreation.
If you're not sure when and how to use all of the items in a kit, then it would be a good idea to take a first aid course. Check with your local Red Cross or American Heart Association for details on these.
Once you assemble a kit, be sure to check it regularly. Your supplies may need to be replenished and some products may need to be replaced because they've expired or because their packages have become damaged (sterile bandages and other supplies are no longer sterile if the packages rip or become wet).
Do you have a well-stocked first aid kit? What additional items do you include in yours?
Shared at the following:
Tutorials and Tips Link Party, Welcome Home Wednesdays, Healthy Living, and Tuesday Talk.
Save
Save
Save
Save
Save
Save
Save
Save
Save
Save
Save
Save