A common complaint about healthy eating is that it's expensive. I tend to share the perception that it's costly. After all, when I grocery shop, fresh fruits and vegetables certainly appear to cost more than processed junk foods.
I have wondered, though, if it really costs more to eat healthily or if this is a myth we perpetuate because we don't want to sacrifice flavor or because we're too lazy to plan ahead and prepare more of our own foods. I've taken a closer look at this question and found some interesting answers.
Studies on the cost of healthy eating
Researchers have found conflicting findings when they've studied the cost of food. For example, in one study conducted by the U.S. Department of Agriculture's Economic Research Service (discussed in this article), researchers found that many healthy foods are not any more costly than unhealthy ones. In another study (discussed here) researchers determined that it costs $1.50 more per person per day to purchase healthy foods instead of unhealthy foods.
So which is it? I decided to see what I could find by doing some price comparisons at a nearby grocery store.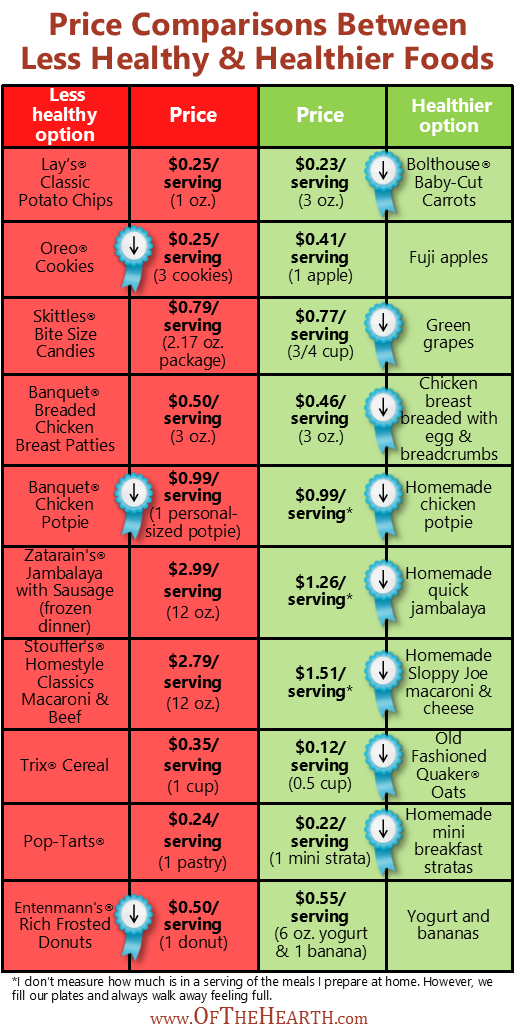 Notes about the price comparisons
The serving sizes I've listed in the table are those noted in the nutrition facts for each food item. As noted beneath the table, I'm not sure the precise sizes of the servings of the homemade items. Keep in mind that many of us eat more than a serving size. Who eats just 1 oz. of potato chips or 1 Pop-Tart pastry (especially when 2 pastries come in each envelope)? If you eat more than one serving, then the cost of the food will increase accordingly.
I found the prices for these items at a local Wegmans grocery store. I used only non-sale prices. You may find the prices are slightly lower or higher depending on where you shop, if you can find items on sale, and/or if you have coupons.
I use some organic items, so the prices of the homemade meals may be slightly lower if prepared exclusively with conventionally produced foods.
The homemade meals listed in the table are items I've prepared previously. I calculated their costs when I originally shared the recipes on this blog. (Here are those recipes: Quick Jambalaya, Sloppy Joe Macaroni and Cheese, and Mini Breakfast Stratas.)
I do not use the term "less healthy" to arbitrarily vilify particular foods. However, if you compare the nutrition facts between the items in each row, there's no question as to which is a healthier option. Feel free to ask if you have any questions regarding why I included particular items.
Obviously these price comparisons provide us with limited information. I compared a small number of items and the items in each row aren't equivalent in all cases. Additionally, prices will vary based on which brands you purchase and if these are purchased in small amounts or in bulk.
Despite these limitations, the comparisons have given me something to think about. Quite frankly, I was surprised at how much less many of the healthy items cost in comparison to the unhealthy items. I'm beginning to believe that healthy eating can cost the same as less healthy eating if certain strategies are enlisted. I'll discuss these strategies next week.
Are you surprised at these comparisons? What do you find as you grocery shop? Do healthier foods cost more than less healthy foods?
Shared on the following link-ups:
Frugal Days, Sustainable Ways, Thrifty Thursdays, Thrive @ Home, Welcome Home Wednesday, Works for Me Wednesday, One Project at a Time, Titus 2sday &  Titus 2 Tuesday.