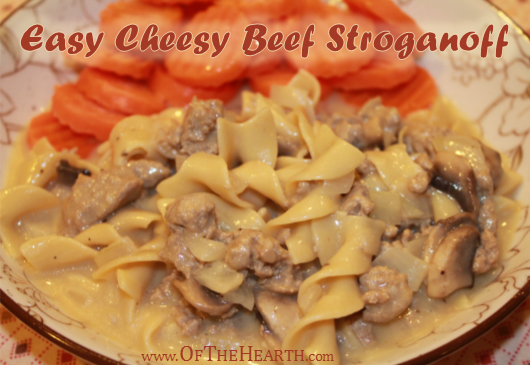 Whenever I ask my husband if he'd like me to place anything in particular on our menu, he always responds that he'd like this dish. If he likes it that much, then it must be good! It's super easy to prepare (it's made in one pot), so I'm a huge fan, too.
Ingredients
(Significantly adapted from this recipe.)
1 lb. ground beef
½ cup chopped mushrooms
½ cup chopped onion
1 can (14.5 oz.) beef broth
3 cups medium egg noodles, uncooked
2 cups homemade cream of mushroom soup or 1 can (10 oz.) condensed cream of mushroom soup plus 6 oz. milk
Several dashes of salt and pepper
8 oz. shredded cheddar cheese
Instructions
Brown the meat in a large skillet or Dutch oven with the onion and mushrooms; drain (if needed).
Stir in the broth and bring it to a boil. Stir in the noodles. Cover and simmer on medium-low heat for 8 minutes or until the noodles are tender.
Add the soup, salt, pepper, and cheese. Stir frequently as you cook for 5 minutes or until the cheese is melted and the mixture is well blended. Yield: 4 servings.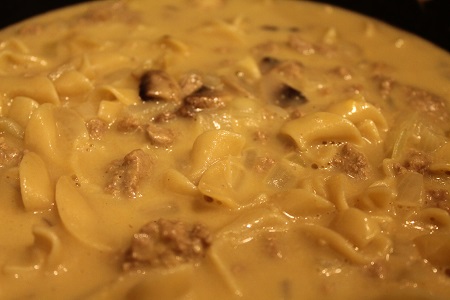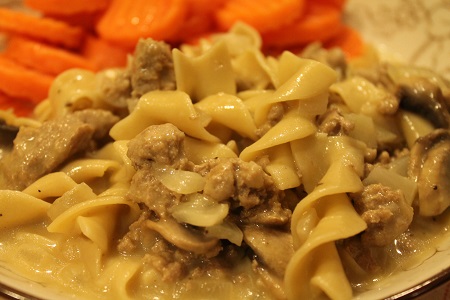 Notes
We love the creamy texture and beefy flavor of this dish. If you'd like, you can prepare it with some form of beef besides ground beef, or you can even prepare it with ground turkey (I do this often and it tastes fine). I usually use whole grain egg noodles in it, but regular ones work fine.
The ingredients for this dish cost approximately $8.43, which is just $2.11 per serving. We serve it with a vegetable on the side, which brings the cost to about $2.28 per serving. Affordable, easy, and tasty. Try it soon!
Shared on the following link-ups:
Weekend Potluck, Creativity Unleashed, Thrifty Thursday, Home and Garden Thursday, Whatever Goes Wednesday, One Project at a Time, Titus 2 Tuesday & Homemade Tuesdays.