When it comes to crafts, easy is what I do best. Almost all of the clothespin wreaths I've seen over the last couple of years appeared pretty easy to make, so I decided to give one a try.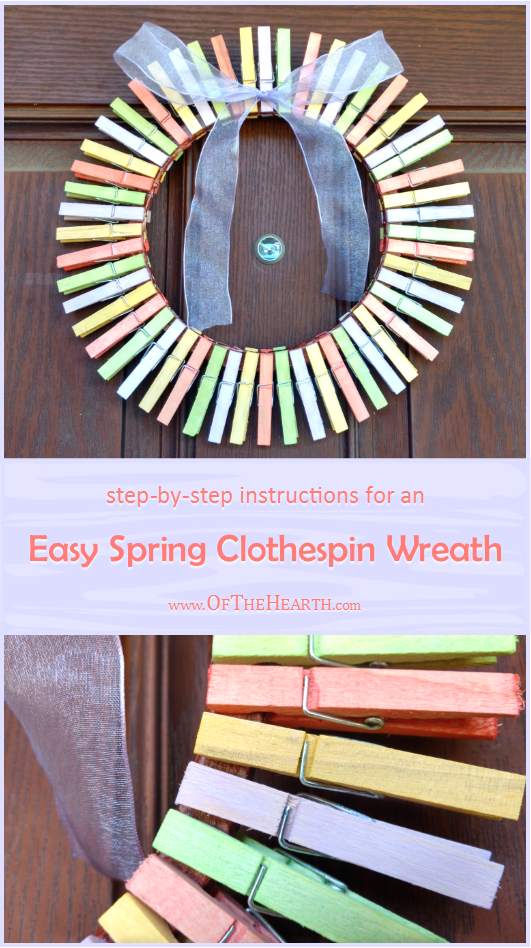 Indeed, it was easy to make. Better yet, the materials cost next to nothing and I'm quite pleased with its appearance!
Supplies
Wreath form
Clothespins (lots of them—I used 52 for a 9-inch wreath form)
Paint, dye, washi tape, etc. for decorating the clothespins
Ribbon or other embellishments
Instructions
Wire wreath forms, which are affordable and readily available at craft stores, work great for making wreaths of this type. However, if you're super frugal like I am, then you can always make your own.
I did this by cutting out two cardboard rings that were 9 inches in diameter (this is a little small for a wreath form, but remember that the clothespins will stick out from the form, making the wreath a couple inches larger). I glued these cardboard rings together and then wrapped them in masking tape so the form became rigid.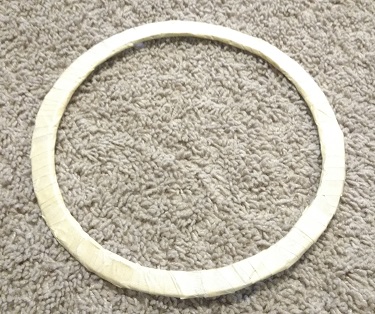 Once you have your wreath form, it's time to color the clothespins. You can paint them, dye them, or cover them in washi tape. I sort of painted mine. I didn't want to take the time to paint each by hand, so I mixed multi-surface acrylic paints with water (two good squirts of paint in 6 ounces of water) and used these paint-water mixtures to give my clothespins a whitewashed look. I soaked the clothespins for a couple of minutes and then allowed them to dry overnight. I used 4 different colors.
Once the pins were dry, I clipped them around the wreath form. As you can see from the picture below, I used a permanent marker to color my wreath form a dark brown so it does not stand out against my door.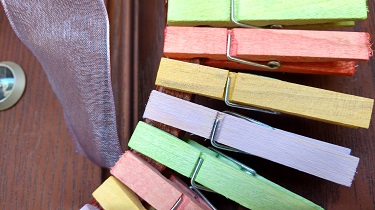 I tied a simple bow made out of ribbon onto the wreath and used picture hanging wire to hang it on my front door.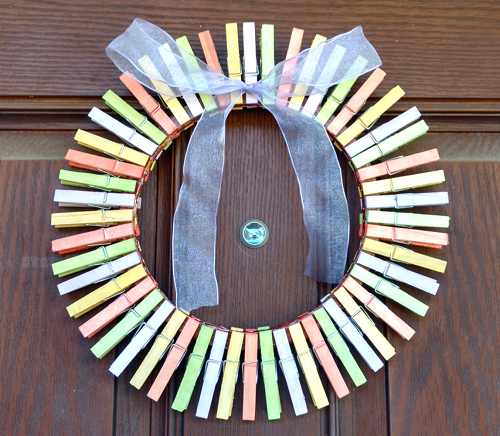 I've currently hung a small cross in front of the bow. I'll leave this in place until Easter, but I'll then remove it and keep the wreath in place until spring is over.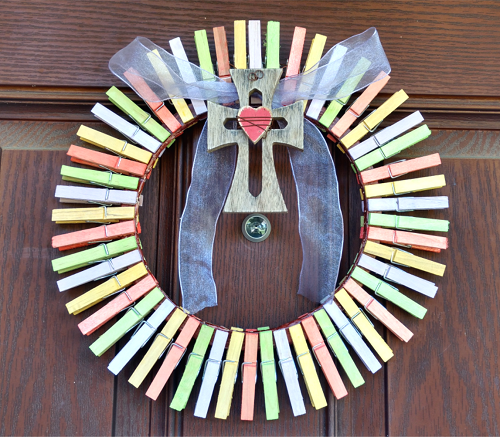 I already had the clothespins and ribbon, so the supplies to make this wreath cost me less than $4.00! This is a great price for a simple, cheery wreath!
Do you have a spring wreath hanging on your door? If so, what does it look like?
Shared at the following:
Frugal Mommas Home and Garden Linky, Over the Moon, Monday's Musings, The Art of Home-Making, Literacy Musing Mondays, Party in Your PJs, Happy Now Link-Up, and Mommy Moments.
Save
Save
Save
Save
Save
Save
Save
Save
Save