I absolutely love wrapping gifts! There's something about lovely wrapping paper and shiny bows that sparks creativity in me.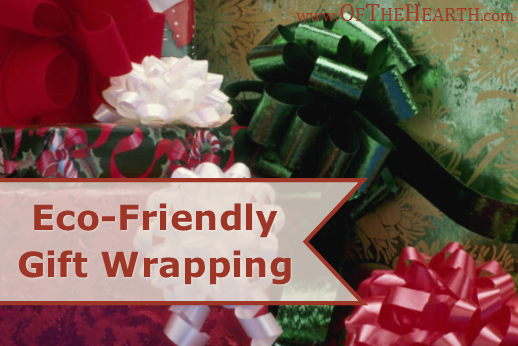 I've become increasingly aware that wrapping gifts in traditional gift wrap and using disposable bows isn't particularly beneficial to the environment. Fortunately, I've discovered several creative, eco-friendly alternatives.
Ideas for eco-friendly gift wrapping
Wrap gifts in cloth.

Reusable cloth squares made of silk, cotton, and other fabrics can be wrapped around gifts. The cloths can be tied in dozens of ways to create veritable works of art. In Japan, there is a time-honored tradition of wrapping packages in this way (the clothes are called furoshiki).

From thegiftedblog.com.

From the Ministry of the Environment of Japan. Find more ideas at env.go.jp.

Reuse newspaper and other papers as gift wrap.

Old newspapers and similar items (maps, sheet music, etc.) can give gifts a rustic or artsy appearance. Most of us have some form of paper in our homes that can be reused in this way.

From countryliving.com.

From easterkiwi.wordpress.com.

Make bows and gift tags from used paper.

Virtually any paper (including toilet paper tubes) can be used to create bows. Gift tags can be made from innumerable materials including old Christmas cards, children's book pages, and playing cards.

From craftsanity.com.

From inspireandindulge.wordpress.com.

Use and reuse cloth ribbons and bows.

Festive ribbon can be wrapped, twisted, and wound into beautiful bows that are reusable. Though my bow making skills are rudimentary, I can make some pretty nice ones with the assistance of the numerous tutorials that are available online.

From missloviecreations.blogspot.com.

Use and reuse decorative boxes.

No wrapping paper is needed when gifts are placed in decorative boxes. If the boxes are sturdy, they'll last for years.

Use reusable grocery sacks as gift bags

.

Reusable grocery sacks come in a variety of sizes and colors, so they can make attractive gift bags. They're a gift that keeps on giving—the recipient can use the grocery sack for months or years to come.

From amazon.com.

Use part of your gift as a "gift bag."

If your gift includes some sort of receptacle, use it as a bag. For example, if your niece is leaving for college and you're giving her supplies for the dorm (e.g., alarm clock, small white board, sticky notes), you can place these in a shower caddy that doubles as a bag. This is my favorite of all the ideas listed here!

From kids.nationalgeographic.com.

From salad-in-a-jar.com.

Purchase gift wrap made of recycled paper.

If you choose to use traditional gift wrap, try to purchase rolls that are made of recycled paper and find ways to reuse the paper once the gifts have been opened.
For additional ideas on having an eco-friendly Christmas, check out the Recycling Christmas board on OF THE HEARTH's Pinterest page.
What is your favorite eco-friendly gift wrapping tip?
Shared on the following link-ups:
All Things Christmas, Frugal Days, Sustainable Ways, Living Proverbs 31, Motivation Monday, Anything Goes Linky, Womanhood with Purpose & Essential Fridays.