My husband and I are incredibly blessed to be expecting the little girl who currently resides in my womb, but will emerge any day now. I never want to lose sight of how grateful we are for her.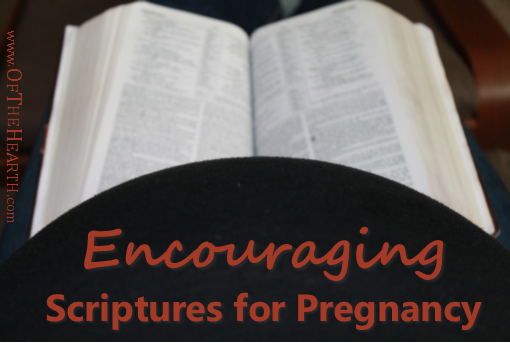 To be honest, though, I'm pretty uncomfortable right now. My feet and ankles are swollen. My back and hips ache. I'm not sleeping well at night. One hand is numb from pregnancy-induced carpal tunnel syndrome. I get out of breath completing routine tasks.
I'm finding that the best way to keep from growing discouraged by these symptoms is to meditate on the Word of God.
Encouraging Bible verses for pregnancy
"Behold, children are a heritage from the Lord, the fruit of the womb a reward. Like arrows in the hand of a warrior are the children of one's youth. Blessed is the man who fills his quiver with them! He shall not be put to shame when he speaks with his enemies in the gate." Psalm 127:3-5
"For you formed my inward parts; you knitted me together in my mother's womb. I praise you, for I am fearfully and wonderfully made. Wonderful are your works; my soul knows it very well. My frame was not hidden from you, when I was being made in secret, intricately woven in the depths of the earth. Your eyes saw my unformed substance; in your book were written, every one of them, the days that were formed for me, when as yet there was none of them." Psalm 139:13-16
"Yet you are he who took me from the womb; you made me trust you at my mother's breasts. On you was I cast from my birth, and from my mother's womb you have been my God." Psalm 22:9-10
"…do not be anxious about anything, but in everything by prayer and supplication with thanksgiving let your requests be made known to God. And the peace of God, which surpasses all understanding, will guard your hearts and your minds in Christ Jesus." Philippians 4:6-7
"But he said to me, 'My grace is sufficient for you, for my power is made perfect in weakness.'" 2 Corinthians 12:9
"He is not afraid of bad news; his heart is firm, trusting in the Lord." Psalm 112:7
"I can do all things through him who strengthens me." Philippians 4:13
"I waited patiently for the Lord; he inclined to me and heard my cry." Psalm 40:1
"For I know the plans I have for you, declares the Lord, plans for welfare and not for evil, to give you a future and a hope." Jeremiah 29:11
"The Lord is my chosen portion and my cup; you hold my lot. The lines have fallen for me in pleasant places; indeed, I have a beautiful inheritance. You make known to me the path of life; in your presence there is fullness of joy; at your right hand are pleasures forevermore." Psalm 16:5-6, 11
"He will tend his flock like a shepherd; he will gather the lambs in his arms; he will carry them in his bosom, and gently lead those that are with young." Isaiah 40:11
"For by him all things were created, in heaven and on earth, visible and invisible, whether thrones or dominions or rulers or authorities—all things were created through him and for him. And he is before all things, and in him all things hold together." Colossians 1:16-17
"'Remember not the former things, nor consider the things of old. Behold, I am doing a new thing; now it springs forth, do you not perceive it? I will make a way in the wilderness and rivers in the desert.'" Isaiah 43:18-19
"…for you know that the testing of your faith produces steadfastness. And let steadfastness have its full effect, that you may be perfect and complete, lacking in nothing." James 1:3-4
"Peace I leave with you; my peace I give to you. Not as the world gives do I give to you. Let not your hearts be troubled, neither let them be afraid." John 14:27
Would you like to have these verses on note cards? Click on the image below to open a PDF file from which you can print the verses on sheets of 3 x 5 inch note cards (Avery 5388 or a generic equivalent).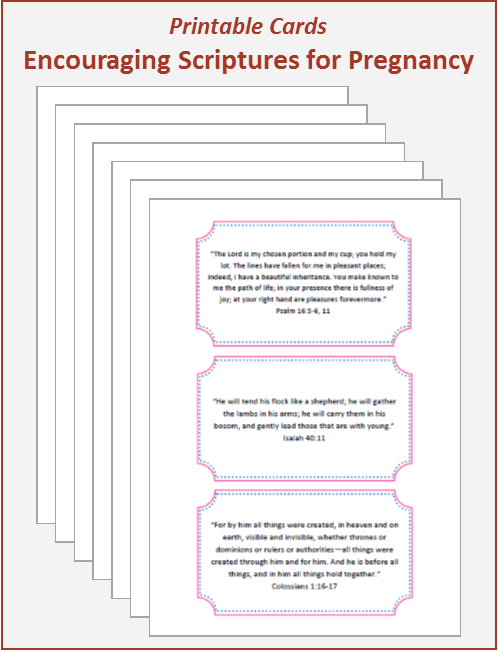 What additional verses would you add?
Shared on the following link-ups: