The official start of autumn is only a couple of weeks away. In addition to the changing leaves and pumpkin-flavored baked goods, I'm eager to start a new menu.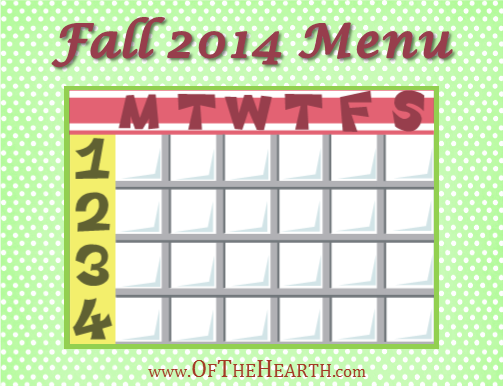 As I've shared before, I periodically develop monthly menus. We use each for 3 consecutive months before moving on to a new one (read more on why and how I plan monthly menus here).
As I often do, I've been sure to include at least one meatless entrée each week. This saves us a few dollars each month. On this menu I've also included a lot of dishes that use beans. I did this because beans are affordable, yet packed with nutrients.
I only plan dinners on our menus because we almost always eat leftovers with a side of fruit for lunch. For breakfasts, I typically make a few items on the weekends and freeze them for easy preparation on busy weekday mornings. Our recent favorites include breakfast sandwiches, oatmeal, and breakfast burritos.
Week 1
Week 2
Week 3
Week 4
Over the next few weeks I'll post recipes for some of the dishes on this menu.
What will you be eating this fall? What new recipes are you eager to try?
Shared on the following link-ups:
Thrifty Thursday, Works for Me Wednesday, Titus 2sday & Titus 2 Tuesday.