Our summer has flown by so quickly! I can hardly believe it's time to begin using a new menu.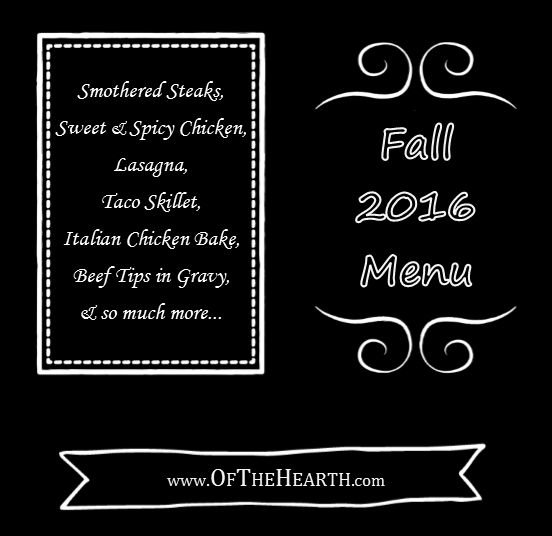 I've detailed the whys and hows of my menu planning previously (read about it here). In summary, I create a new monthly menu at the beginning of each season (fall, winter, spring, and summer). We use each menu for the three months of that particular season and then move on to the next season's menu. (Find all of my menus from the last few years here.)
I only include dinners on our menus because we generally eat leftovers with a side of fruit for lunch. I try to include one meatless entrée each week to save us a bit of money on groceries. For breakfasts, we'll have scrambled eggs and toast, cereals, or reheat items (e.g., mini breakfast stratas, breakfast sandwiches) that I made on the weekends.
Here are the tasty dinners we'll be eating this fall.
Week 1
Week 2
Week 3
Week 4
If you're familiar with my menus, then you may notice something a little different about this one. Each meal in the first two weeks of the menu has a similar counterpart in the second two weeks. I'm still adjusting to having a toddler and a newborn in the house, so I'm hoping this will help me save a little time on meal preparation. When I make a meal during the first two weeks, I will use the same or similar ingredients to prepare a freezer dinner (casserole or slow cooker dump dinner) for use during the second two weeks of the month (e.g., the slow cooker beef tips and gravy in the third week corresponds to the smothered steaks in the first week). There are only a couple of exceptions to this on the menu. I'll let you know how this approach works!
Over the coming weeks I will share recipes for some of the new dishes on this menu. What will you be eating for dinner this fall? Will you be trying several new recipes?
Shared at the following:
Monday's Musings and Share the Wealth.
Save
Save
Save
Save
Save
Save
Save
Save
Save