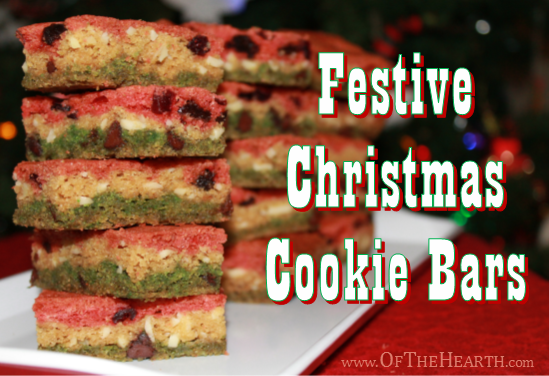 One by one I'm trying the cookies on my Christmas Cookie Bucket List. I tried the Neapolitan Bars last year, but I thought they took too much work for the flavor that resulted. I really like the appearance of a tricolored cookie bar, though, so I've made over the recipe so the bars are easy to make and have a tasty flavor.
Ingredients
2 3/4 cups flour
1 teaspoon baking soda
1/2 teaspoon baking powder
1 cup butter, softened
1 1/2 cups white sugar
1 egg
1 teaspoon vanilla extract
1/4 teaspoon almond extract
1/2 cup slivered or sliced almonds
2/3 cup dried cherries
2/3 cup chocolate chips
Red and green food coloring
Instructions
Preheat the oven to 375°F. In a small bowl, mix together the flour, baking soda, and baking powder. Set aside.
In a large bowl, cream together the butter and sugar. Beat in the egg and vanilla. Gradually mix in the dry ingredients. Divide the dough into thirds. (The dough will be crumbly. This will make it a little challenging to mix in the remaining ingredients, but will be helpful when pressing the dough into the pan.)
Add the almond extract and almonds to a third of the dough. Add several drops of red food coloring and the dried cherries to the next third of the dough. Add several drops of green food coloring and the chocolate chips to the final third of the dough.
Carefully press the green dough into the bottom of a lightly greased 9×13 inch baking dish. Gently press the white dough on top of the green dough and the red dough on top of the white dough.
Bake 15-17 minutes in the preheated oven (the edges should begin turning golden). Let cool completely before slicing into bars. Yield: 24 cookie bars.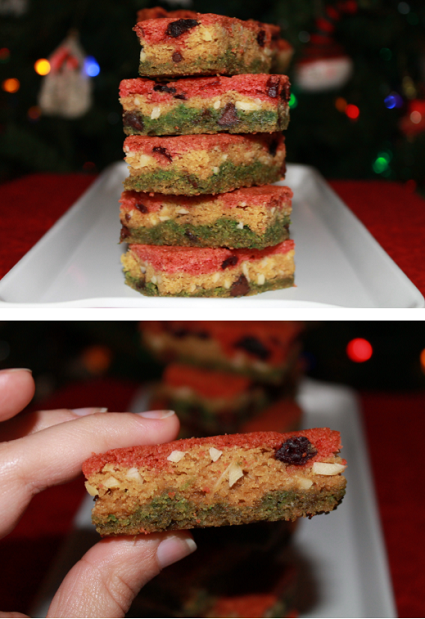 Notes
These cookie bars look and taste wonderful! The process of pressing the dough into the pan is a little tedious because each layer of raw dough is thin, but you can't beat their festive appearance. Moreover, the flavors of chocolate, cherry, and almond meld together perfectly.
If, like me, you aren't sure you want to add conventional food dyes to your cookies (e.g., FD&C red 40, FD&C yellow 5), then be on the lookout for natural food dyes (affiliate link). I was so pleased to find these so I could continue making colorful treats like these!
Give these Festive Christmas Cookie Bars a try this Christmas! I'm confident they'll be a hit with your loved ones.
What Christmas cookies have you made so far this year?
Shared at the following:
The Art of Home-Making, Coffee and Conversation, Weekend Potluck, and Tuesdays with a Twist.
Save
Save
Save
Save
Save
Save
Save
Save
Save