When my house is brimming with hungry guests, I try to prepare a well-liked dish that is easy to prepare and affordable. French bread pizzas fit the bill and they also happen to be fun!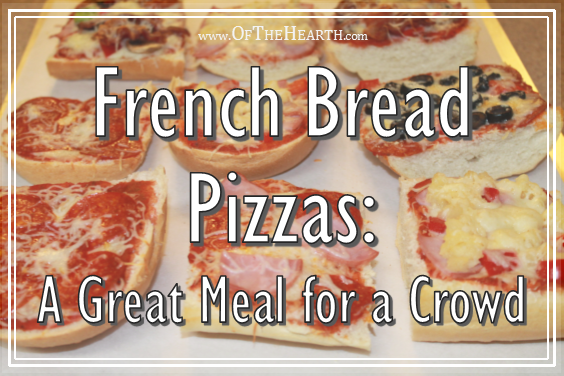 To make French bread pizzas, you need some bread. French bread is the normal bread used to make them (as their name indicates), but in a pinch you can use a variety of other breads: sub sandwich rolls, bagels, crusty dinner rolls, baguettes, etc.
You also need pizza toppings. Here's where the fun begins. You can choose traditional pizza toppings and/or utilize some less traditional ones!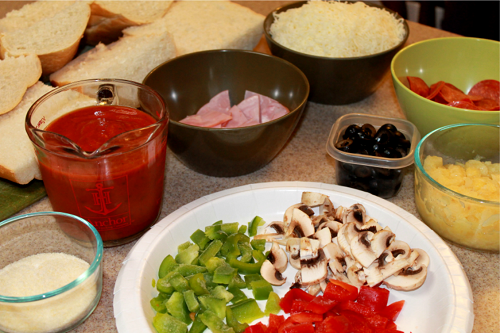 Peek around your fridge and pantry because you probably have a few things on hand that will work—you may or may not need to grab toppings at the grocery store.
Common pizza toppings
Marinara sauce
Mozzarella cheese
Parmesan cheese
Pepperoni
Canadian bacon
Italian sausage
Anchovies
Bell peppers
Olives
Mushrooms
Onion
Sun-dried tomatoes
Pineapple
Novel pizza toppings
Alfredo sauce
Pesto
BBQ sauce
Cheddar cheese
Provolone cheese
Ricotta cheese
Bacon
Ground beef
Chicken
Sriracha
Broccoli
Cilantro
Spinach
Jalapeno peppers
Banana peppers
Avocado
Eggplant
Artichoke
Zucchini
Once you have all your toppings ready, cut the French bread lengthwise and then slice into pieces that are a good length for individual pizzas (somewhere in the 6-10 inch range). Now family members or guests can assemble their own pizzas! This ensures that each person will love his or her pizza and provides an opportunity for more fun as competitions ensue to see who can put the most toppings on his pizza, who can create the most beautiful pizza, or who is daring enough to make the most exotic pizza.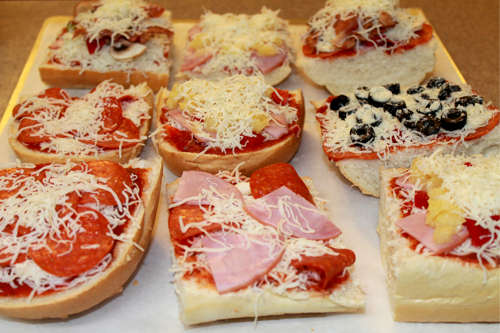 The simple way to bake the pizzas is to place them on baking sheets and bake at 375° for about 12 minutes or until the cheese melts. If you have extra time available and you desire a little more flavor, you can flavor and crisp your bread before topping it. Simmer some butter and garlic on the stove and brush this on the bread before baking it. Bake the bread at a higher temperature (450°) for 4-5 minutes, then remove and top with whatever sauce, cheese, meats, and veggies you desire. Reduce the oven temperature to 375° before placing the topped bread back in it. Bake until the cheese melts.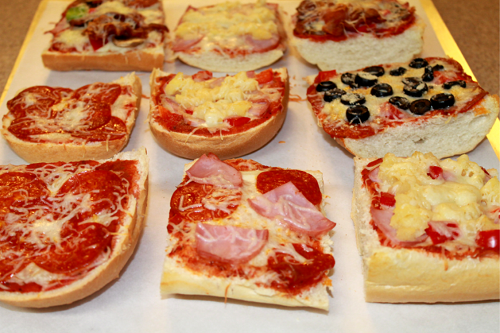 Because these pizzas are individualized and can be eaten by hand, your family members and guests will devour them in no time! I think it's nice to serve some vegetable sticks (carrots, celery, bell peppers, etc.) alongside them, but the pizzas are hearty enough to be served on their own, if needed. Cleanup is a breeze because you don't have to wash a bunch of pots and pans or silverware.
Would these work for your next gathering? What would you put on your French bread pizza?
Shared at the following:
Coffee and Conversation, The Art of Homemaking, Monday's Musings, Home Inspiration Linky, What's for Dinner? and Weekend Potluck.
Save
Save
Save
Save
Save
Save
Save
Save
Save
Save