Stocking stuffers are one of life's little pleasures. There is something delightful about pulling gifts from a bulging stocking, especially when you discover that the meaningfulness of a gift is masked by its small size.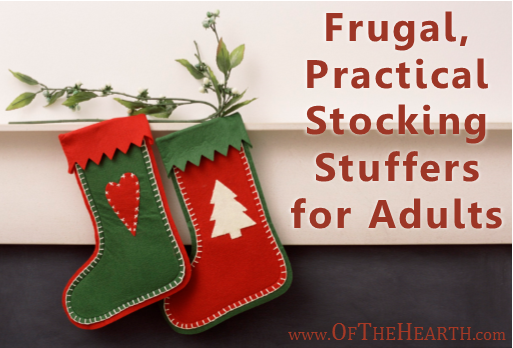 As I've noted before, I want to give my loved ones meaningful gifts, not "junk" that I resort to because I don't know what else to give. Subsequently, I've been on the lookout for budget-friendly gifts that are small in size, but large in utility. I've listed those that are suitable for adults below. Next week I'll share those that are great for kids.
Stocking stuffer ideas for adults
Reusable to-go mug. Do you have a coffee lover on your Christmas list? He or she might love a reusable to-go mug. His or her mug will never get confused with coworkers' cups from popular coffee chains!

Pocket-sized reference book. I'm a little nerdy, so I think the Pocket Ref, a small reference book that contains maps, formulas, conversions, and other useful information, seems really cool. I believe even the non-nerdy people in your life will find it useful and entertaining. The Handyman In-Your-Pocket looks pretty cool, too. (I may be snagging one of these for my husband!)
Egg ring. If anyone on your Christmas list loves making breakfast sandwiches, then they would likely appreciate an egg ring set. These simple silicone rings allow you to cook perfectly round eggs for sandwiches made with English muffins, bagels, or biscuits. We have one that we absolutely love!

Small book. There are several stocking stuffer-sized books that are incredibly powerful. If, by Amy Carmichael, is one of these. In this book, she describes in a hard-hitting manner how we should be changed by God's love. The Practice of the Presence of God, by Brother Lawrence, is another good one.
Compact multi-tool. Everyone can benefit from having a multi-tool on hand. Compact multi-tools that contain a lot of features (e.g., needle nose pliers, wire cutters, knives, a Phillips and flat screwdriver, bottle opener) are available for relatively affordable prices. Even though you might associate multi-tools with men, they're a great item for women to carry in their purses!

Reusable grocery sack. In addition to providing an environmentally-friendly means of carrying groceries, reusable grocery sacks make great tote bags, carry-on bags, and impromptu purses. Many attractive varieties, including the Flip & Tumble 24-7 Bag and the ChicoBag Vita, fold or wad up into a size that easily fits in a stocking (this means they'll also store conveniently in a glove box or purse).

Windshield or dash mount for smartphones. A smartphone mount is a great way to provide a loved one with a useful tool that promotes safety. These units allow users to mount their cellphones on their windshields or dashes. The GPS and speakerphone features can then be used safely. Many of these units will also hold small tablets and portable GPS devices. My husband purchased one of these because he spends a lot of time commuting. He loves it!

Tire pressure gauge. Though your loved ones may be surprised to unwrap a tire pressure gauge, it's a very thoughtful gift. Why? Properly inflated tires help keep your loved ones safe while driving and can save them money.

Note card set. I'm often in need of stationery to use for thank-you notes and to make last minute cards for birthdays, weddings, baby showers, etc. If your loved ones also experience this, consider placing blank note cards in their stockings.

Small first aid kit. Though first aid kits are useful for any family member, compact kits that easily fit in backpacks and glove compartments may be especially appreciated by loved ones who play sports or spend time camping and hiking.

In addition to being practical, many of these gifts are unique. They'll come as genuine surprises to your loved ones and it's unlikely the gifts will be duplicated by another family member.
Which stocking stuffers are you excited to give to loved ones this Christmas?
Shared on the following link-ups:
Motivation Monday, Thriving Thursday, Thrive @ Home, Welcome Home Wednesday, Works for Me Wednesday, WholeHearted Wednesday, and Encourage One Another.
Save
Save
Save
Save
Save
Save
Save
Save
Save
Save