Last week we looked at ideas for low-cost, useful stocking stuffers for adults. Now let's look at some for the kiddos on our lists!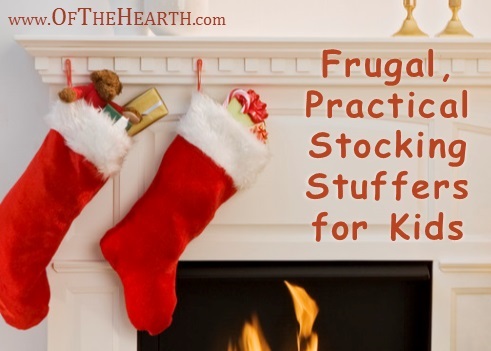 Though I have identified a couple of toy items, I tried to minimize my focus on these because most little ones already have plenty.
Stocking stuffer ideas for kids
Slim Snack containers. I initially saw these Slim Snack containers when I was looking for ideas on how to make homemade ice pops. They work well for freezing juice or smoothies into ice pops and for holding snack foods like yogurt, vegetable sticks, and trail mix. They're brightly colored so they're attractive to kids. Hopefully this gets them excited about the nutritious foods packed inside!
Wrist watch. Watches are fun fashion accessories for girls and boys. They're also functional. They help kids learn to tell time and can be a tool in helping them learn time management.
Educational game. There are a number of stocking stuffer-sized games, including Smack It, Fast Flip, and Rory's Story Cubes, that are both fun and educational. If one of your gift recipients is struggling with an academic subject this is an especially great idea!
Apron and oven mitts. A child-sized apron and oven mitt set are fun for playing house, but they're also useful in learning how to keep a house! Having their own gear can encourage kids to help out in the kitchen. Parents can relax knowing that clothes will stay clean and hands will be safe from hot dishes.
Small LEGO set. LEGOs are awesome. Kids can build virtually anything they can imagine. There are dozens of small LEGO sets available that supplement the various LEGO series.
Scripture CD. The single greatest gift we can give to any child is knowledge of God and the salvation He provides through Jesus. Songs that teach Bible verses are a great tool to help us do this. Several CDs that contain these sorts of songs are available, including Hidden In My Heart: A Lullaby Journey Through Scripture and the Seeds Family Worship albums.

Adhesive bandages. If you're frugal, you likely purchase the most affordable adhesive bandages (i.e., plain brown ones). This means your kids don't get appealing bandages that are brightly colored or depict fun characters. Why not splurge and tuck some fun bug or neon bandages in their stockings?
Toothbrush. As with adhesive bandages, you may typically purchase plain toothbrushes. Fun ones are pretty inexpensive, fit right into Christmas stockings, and encourage dental hygiene.
Socks. Kids go through socks so quickly that you just about have to consider them for a stocking stuffer! Go with plain white or get crazy with colors for both boys and girls.
Toys that promote physical activity. Most children today are less physically active than children of past generations. Subsequently, there has been an increase in childhood obesity rates. Why not reverse this trend by giving jump ropes, streamers, and other toys that encourage physical activity?

Will any of these work for the kids on your Christmas list? What suggestions can you add?
Note: Some of the above links are affiliate links (click here to read about what this means).
Shared on the following link-ups:
Motivation Monday, Anything Goes Linky, From House to Home, Welcome Home Wednesday, Works for Me Wednesday, Titus 2sday, One Project at a Time, Teach Me Tuesday, Titus 2 Tuesday, & Making Your Home Sing Monday.
Save
Save
Save
Save