Taking care of clothes in a manner that extends their life expectancy is one of the easiest ways to keep clothing expenses from getting out of hand.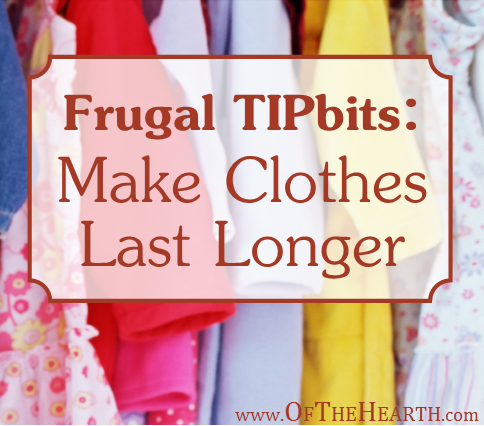 I combed the internet for suggestions because I want to be sure I'm making every reasonable effort to make my household's clothes last longer. I found a number of common sense approaches that are pretty easy to implement.
Ways to make clothes last longer
Zip zippers and secure Velcro before tossing clothes into the washer

. Securing zippers and Velcro wards off the damage that occurs when these fasteners grip and snag fabrics while in the washer and dryer.

Consider washing clothes less frequently

. Some clothing items (e.g., underwear, socks, swimwear) should be washed every time they are worn. However, depending on your activities, many items (especially pants and sweaters or cardigans that go over other clothing) can go several wears in between washings. I often wear jeans a number of times between washes and have never found it to be problematic.

Turn clothes wrong side out before washing

. The visible surfaces of clothes hold up a lot better when they are washed wrong side out. Their color will be preserved longer and they'll be less likely to pill. It does take a little longer to do a load of laundry when you stop to do this, but I've done it for years with my dress clothes and have had great success in keeping them looking like they're new.

Wash like clothes together and follow label instructions

. This seems really obvious, but I've been known to toss clothes made of a wide array of fabrics into one load for convenience. (My guess is a few of you have pulled a load of pink clothing from the washer after absentmindedly washing a red shirt with white socks and shirts.) Be especially careful with delicate clothes (including bras and other underclothes made from fabric blends).

Consider using cold water

. Cold water is less likely to shrink clothing. Additionally, using cold water saves energy.

Be careful with bleach

. Chlorine bleach attacks fibers about as well as it does stains, so clothes washed in bleach tend to wear out quickly.

Hang dry clothing

. Dryers can weaken and shrink the fibers in fabrics. Hang drying clothes avoids this wear and tear and saves money because you don't have to pay for the energy to use the dryer.

Iron with care

. Read the label instructions to see if a fabric should be ironed. If a delicate fabric can be ironed, consider placing a cloth between the iron and the fabric or ironing the item while it is turned wrong side out. Also, be sure to only iron clean clothes because the heat of an iron can set stains in dirty fabrics.

Think twice about how you store clothes

. Some clothing items, such as sweaters, can become stretched and misshapen if hung on hangers. Other items, such as crocheted scarves, can snag on the runners under dresser drawers. Make sure that you store clothes in a manner that keeps them in their natural shape and protects them from harm. Whether they are hung or folded, clothes should be kept in areas that are clean, dark, and dry. Avoid storing clothes that are soiled because these attract bugs like moths and silverfish.

Save spare buttons

. Don't throw away the spare buttons you get with new clothing. Store them in a small jar or box so you have them available to mend blouses and jackets that would be rendered useless if they were missing buttons. I've found that this collection of buttons can also come in handy for completing craft projects!
What additional tips can you share? What do you do to make clothes last longer?
Shared on the following link-ups:
Frugal Days, Sustainable Ways, Welcome Home Wednesdays, Works for Me Wednesdays, WholeHearted Home, and Encourage One Another.