Sometimes it's a rogue apple that rolls off the counter onto the tile floor. Sometimes it's a carefully selected peach that is carelessly bagged by a supermarket cashier. Sometimes it's a forgotten plum that becomes squashed in the back of the produce drawer. Whatever the cause, bruised pieces of fruit are unsightly and, in many cases, unsavory. Fresh fruits are so pricy that throwing them away is like tossing out fistfuls of coins (not to mention that it's wasteful). How can they be used in appetizing ways?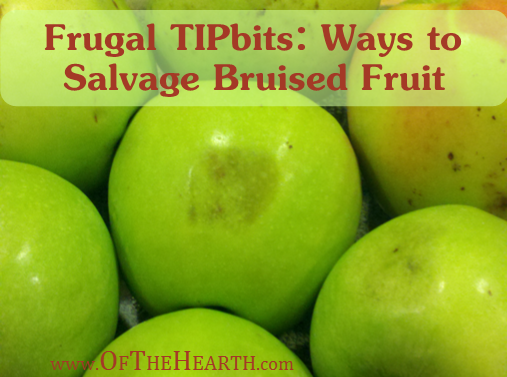 Before I go any further, let me clarify what I mean by bruised. I'm talking about fruits that have become soft and discolored because of pressure (from the weight of other fruit in a bin, from being squished by other groceries, from the impact of a fall, etc.). I'm not talking about moldy fruits or fruits that are split open with their innards exposed. For safety reasons, these latter fruits shouldn't be eaten.
Things to make with bruised fruit
Applesauce and other fruit sauces
Breads (muffins, coffee cakes, quick breads, pancakes, etc.)
Cobblers, crisps, and streusels
Curries and stir-fries
Fried cinnamon apples
Fruit butters
Fruit ice cubes
Fruit leathers
Fruit salsas
Fruit vinegars
Fruit-containing BBQ sauces and marinades
Fruited coleslaws and other salads
Gelatin salads
Homemade ice creams
Mix-ins for oatmeal and other warm breakfast cereals
Pies and cakes
Popsicles
Smoothies
Toppings for ice cream, pancakes, or French toast
Yogurt parfaits
Now I just have to decide which to make with my bruised apples! What other suggestions do you have for using bruised fruit?