If you have a limited grocery budget, chances are you eat many of the same foods over and over again.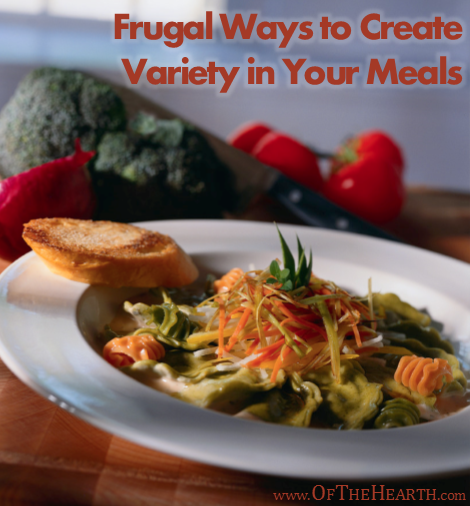 In my household we eat a lot of chicken, ground turkey, brown rice, apples, and bananas. These are some of the most affordable foods in the grocery store, so they're our staples. Without a little creativity, our meals would get pretty boring! Fortunately, I use a number of low-cost or free strategies to ward off meal monotony.
Frugal strategies for creating variety in your meals
Switch starches.

Many starches (bread, rice, potatoes, etc.) can be used interchangeably. I usually serve Swedish meatballs over rice, but on occasion I'll place the meatballs over egg noodles or mashed potatoes. I typically make pizza with wheat pizza crust; however, sometimes I'll use French bread or tortillas. Another great substitution is using spaghetti squash in place of pasta. These switches really revitalize common dishes!

Purchase fruits and veggies that are on sale because they're in season.

Certain fruits and vegetables are expensive if not purchased when they're in season. While in season, though, they're often offered on sale. I like to take advantage of these sales to purchase fruits and vegetables we don't routinely eat (acorn squash in the fall, clementines in the winter, etc.). Are you unsure of when various fruits and veggies are in season? Find them listed at the bottom of this printable buying guide.

Use different cutting techniques.

The way in which you cut vegetables (and foods like meats and cheeses) can change the whole appearance of a dish. Whether cutting vegetables for a salad, as a pizza topping, or for a casserole, I like to utilize all of these techniques:
Cube – Cut the food into strips (1/2 inch or more wide). Line up the strips and cut crosswise to form pieces.
Dice – Cut the food into strips (1/8 to 1/4 inch wide). Line up the strips and cut crosswise to form small pieces.
Chop – Cut the food into irregularly-shaped pieces approximately the size of peas.
Finely chop – Cut the food into irregularly-shaped pieces smaller than peas.
Slice – Cut the food crosswise, making cuts perpendicular to the cutting surface.
Cut in Julienne strips – Cut the food into slices about 1/4 to 1/2 inch thick. Stack the slices and cut them lengthwise to make thin, matchlike sticks.
Shred – Push the food across a shredder to create narrow strips.
Finely shred – Push the food across a fine shredder to create very thin strips.
Mince – Cut the food into tiny, irregularly-shaped pieces.
Grate – Push the food across a grater to create fine pieces.
Use different types of pasta.

Many varieties of pasta (e.g., penne, spaghetti, ziti, farfalle, rotini) taste and cost the same, but they have very different appearances. Even when served with a limited variety of sauces, using different pastas gives each dish a novel look and feel.

Experiment with herbs, spices, and marinades.

A little bit of garlic, curry powder, cilantro, or a number of other herbs and spices can make a big difference in how foods taste. Plain rice can get boring, so I like to make it more exciting by preparing it in broth and flavoring it with various seasonings (butter and garlic, cilantro and lime, etc.). Likewise, marinades can infuse meals with flavor. I steep the affordable meats we purchase in vinaigrette salad dressings or simple mixtures made of ingredients like olive oil, lemon juice, balsamic vinegar, etc. Plain old chicken tastes pretty sophisticated when it's grilled after soaking all day in a good marinade!
What affordable foods do you purchase frequently? What approaches do you use to create variety with these foods?
Shared on the following link-ups:
Motivation Monday, Works for Me Wednesday, One Project at a Time, Frugal Crafty Home, Living Proverbs 31, Making Your Home Sing, Saturday Soiree & Creativity Unleashed.