Some time ago we looked at why it benefits couples to have friendships with other couples (read about the benefits of couple friendships here). There are lots of ways to spend time with couple friends, but it can be particularly fun to go on double dates.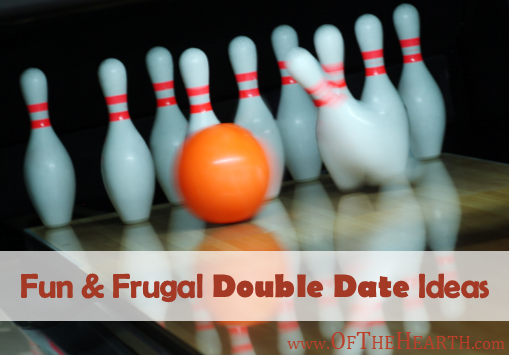 It's not always easy to come up with enjoyable and affordable double date ideas. However, here are some ideas I've come up with as my husband and I have brainstormed activities to share with our couple friends.
Double date ideas
Go bowling or play miniature golf

. These activities do cost a little, but they typically won't break the bank. They're especially great activities if you're just getting to know another couple because they get you up and moving—you have something to focus on in case there's a lull in the conversation. At the same time, they're not so strenuous that you can't find time for meaningful conversation.

Play board games in your home

. If you already own some board games, then this activity is practically free! Bake a nice dessert and put on a pot of coffee, then have fun competing with board games. Of course, you and your husband can always have a date night where the two of you play board games, but it's often extra entertaining to play couple against couple or guys against girls.

Have an amateur photo shoot

. Go on a walk through a lovely park and take pictures of one another. Hiring a professional photographer to photograph you and your husband can be pretty costly, but you and your couple friends can take pictures of each other for free. With a decent camera, even amateurs can take great photos!

Attend a baseball game or another athletic event

. If you can get your hands on affordable tickets, it can be fun to attend a baseball game or similar athletic event. Though it will depend on the sport and the venue, the "cheap seats" are often less crowded so you'll have some space to yourselves and will be able to chat during the game.

Go on a picnic and play Frisbee or fly kites

. Pack a simple lunch and enjoy it while fellowshipping in a lovely spot outdoors. Toss around a Frisbee or fly a kite when you're done eating. This will provide hours of fun that cost next to nothing.

Go shopping at a farmers' market and use your purchases to make lunch

. Enjoy perusing a farmers' market in the morning. Make purchases that you can use to prepare a tasty lunch. Have fun as each spouse gets involved in meal preparation and then enjoy visiting as you eat.
Do you and your husband go on double dates? What activities do you enjoy completing with other couples?
Shared on the following link-ups:
Thrive @ Home, Thriving Thursday, Wifey Wednesday, Welcome Home Wednesday, Works For Me Wednesday, Titus 2sday & Titus 2 Tuesday.