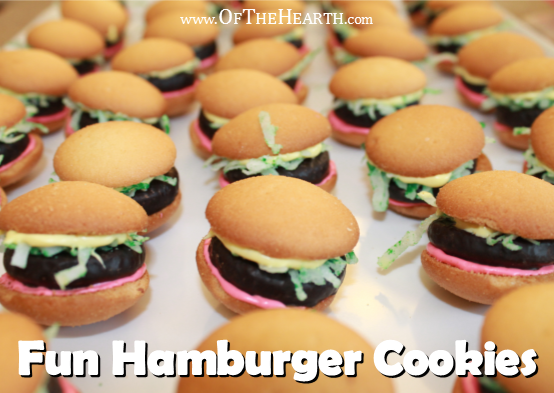 A friend of mine who loves hamburgers recently had a birthday. We planned to celebrate with a few snacks. While brainstorming what treats to prepare, I remembered that years ago I saw some little hamburger cookies in one of my cookbooks. I was able to find this recipe online and prepare these delightful hamburger cookies to contribute to the birthday celebration!
Ingredients
(Adapted from this recipe.)
80 vanilla wafers (about the amount in an 11 or 12 oz. box)
40 chocolate-coated mint patties (about the amount in a 12 oz. package)
2 cups homemade vanilla frosting or a 16 oz. tub of premade frosting
1 cup flaked coconut
Red, yellow, and green food coloring
Instructions
Divide the frosting into two bowls. Add red food coloring to one bowl and yellow food coloring to the other bowl; stir until the frosting in each bowl is uniform in color. Place the coconut in a zipper baggie and add a little green food coloring. Shake to coat.
Frost the flat portions of 40 vanilla wafers with red frosting. Frost the flat portions of the remaining 40 cookies with yellow frosting and then sprinkle with coconut; top each with a chocolate mint patty. Place the red-frosted wafers, frosting side down, on top of the mint patties. Gently squeeze the wafers together to form sandwich cookies. Invert and place carefully on a tray. Yield: 40 cookies.

Notes
These cookies were a huge hit! Honestly, I was a little concerned about how they would taste. To me, chocolate-coated mint patties, vanilla wafers, and coconut just don't seem to go together. I was quite surprised when I tasted one and it was just fine! The mint was toned down by the vanilla and coconut.
To make assembly easy, I used disposable cake decorating bags to frost the cookies. I also used some small tongs to apply the coconut so my hands didn't turn green. These two little tricks made the cookies pretty easy to prepare.
As you can see, the cookies looked absolutely adorable. Everyone was quite pleased with them!
What do you think? Would these be a hit at your next picnic or barbecue?
Shared at the following:
Weekend Wind Down, Making Your Home Sing, Living Proverbs 31, The Art of Home-Making, Monday's Musings, Share the Love, Titus 2 Tuesday, Creativity Unleashed, Friday Frivolity, Weekend Potluck, What's for Dinner? and Small Victories Sunday.
Save
Save
Save
Save
Save
Save
Save
Save
Save
Save
Save