I love it when my 23-month-old toddler walks up to me and identifies an object using both an adjective and a noun. Currently, a lot of the adjectives she uses are colors: purple car, black bear, orange ball, etc.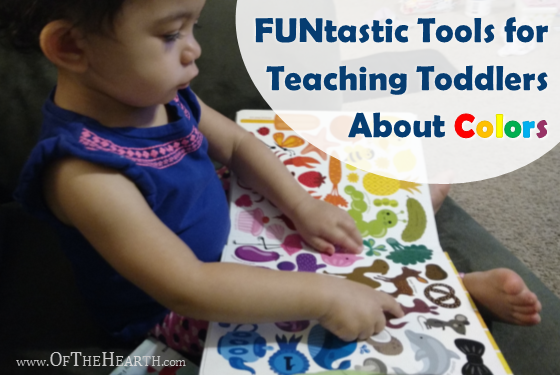 Though I've always mentioned colors when talking with her about the things around us, it wasn't until about 10 weeks ago that I started being intentional about helping her learn the colors. When I began doing this, I discovered many fun, helpful resources. Here are a few of our favorites. (Please note that the following contains affiliate links. Click here to read about what this means.)
Resources for teaching toddlers about colors
Books
Books can be helpful when introducing just about any topic! Colors are no exception. We checked out lots of books about colors from our local library. Some were great and some were just okay. Here are four of the great ones.
Crayons and paint
Like most toddlers, my daughter is fascinated by the lines and blotches she creates with crayons and paint. Because these art supplies come in a variety of colors, they make a perfect tool for teaching about colors. Using them doesn't have to take any special planning; you simply talk about what color your toddler is using as he or she draws and paints!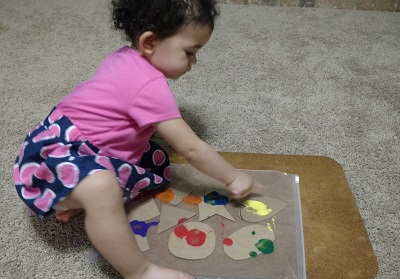 Toys
There are dozens of popular toys that aid in teaching toddlers about colors. Of course, these toys will not by themselves teach about colors, but as we play with our children we can use them for color identification and color sorting.
Activities
I often come up with great ideas for educational activities; however, I rarely have time to actually put these together. Thankfully, with the help of Google and Pinterest, I'm able to find activities that others have generously shared!
Color Scavenger Hunt from Artsy Momma (This activity is designed for teaching the colors in both English and Spanish. We're not teaching Spanish at this time, but it can be done solely with English or with a combination of any languages. I love that it can be done with very little prep work!) 
Color Match Car Parking from The Princess and The Tot
Sorting Colors with Cardboard Rolls from Learning 4 Kids 
Puzzles
My daughter is in a phase where she loves completing puzzles. We took advantage of this by getting her puzzles that teach about colors. As she has fun assembling them, we're able to talk about the colors. Among those she has used, the most useful puzzles for teaching about colors have been the Fish Colors Mix N Match Puzzle and the Color Recognition Geometric Block Chunky Puzzle.

Everyday activities
The resource I used the most was everyday life. This is the best resource because it is free, abundant, and effective. Here are some examples of how to teach about colors through daily activities.
Talk about the colors of his or her clothes as you get your toddler dressed in the morning.
Talk about the colors of various fruits and vegetables while grocery shopping.
Talk about the colors of the grass, sky, flowers, sand, etc. while at the park.
Identify the colors of various socks and have your toddler help you match them while folding the laundry.
Final thoughts
As most toddlers do, my daughter picked up the concept of colors very quickly. Fortunately, the resources described above remain useful even after toddlers have learned to identify colors. They still have fun completing the puzzles and reading the books, crayons are still appealing, etc.
What are your favorite resources for teaching toddlers about colors?
Shared at the following:
Making Your Home Sing, Monday's Musings, Tuesday Talk, and The Art of Homemaking.
Save
Save
Save
Save
Save
Save
Save
Save
Save
Save
Save