When my oldest daughter was 18 months old, we gave her a puzzle that featured 8 common shapes. Within days she was able to identify a couple of them. However, it took her a little longer to learn the remaining shapes and to differentiate between similar ones (e.g., square and rectangle).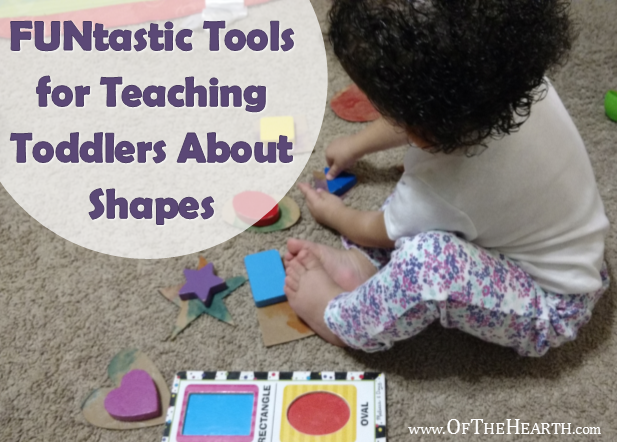 Thankfully, we discovered many fun, useful resources to help her learn the shapes. Here are a few of our favorites. (Please note that the following contains affiliate links. Click here to read about what this means.)
Resources for teaching toddlers about shapes
Everyday activities
As I did when teaching the colors, the resource I used most frequently was everyday life. This is the best resource because it is free, always available, and effective. This can be a little tricky because the objects around us are three dimensional (e.g., circles are actually spheres, squares are cubes). In my experience, it works to go ahead and identify objects as circles, squares, etc. and begin introducing the concept of three-dimensional objects when our kiddos are a bit older. Here are some examples of how to teach about shapes through daily activities.
Talk about the shapes of the foods you eat (e.g., pancakes are shaped like circles, sandwiches are cut into triangles).
Talk about the shapes you see while out and about (e.g., tires on cars are circles, doors on buildings are rectangles).
Identify the shapes of toys and the shapes you see on clothing (e.g., balls are circles, there are hearts on your shirt).
Books
If you know me at all, then it won't surprise you that I've included books on this list. Though they provide hours of entertainment, books can also present so many great concepts to our kids. We checked out numerous books about shapes from our local library. Here are the ones we enjoyed the most.
Toys and puzzles
There are many popular toys that help our toddlers learn about shapes. These ones are so engaging and fun that our little ones don't even realize they are learning!
Activities
I was able to come up with my own series of shapes activities in recent months, but I've also used ideas shared by others.
Final thoughts
I really appreciate that many of these resources help us review the colors with our toddlers and several of them get our toddlers up and moving. Of course, these are focused on the basic shapes, so I'm on the lookout for additional resources for teaching about three-dimensional shapes and the more complicated shapes (e.g., hexagons, octagons).
What are your favorite resources for teaching toddlers about shapes?
Shared at the following:
Monday's Musings, Tuesday Talk, Party in Your PJs, Coffee and Conversation, Making Your Home Sing, and The Art of Homemaking.
Save
Save
Save
Save
Save
Save
Save
Save
Save
Save
Save
Save
Save