Which surface in your home has the highest concentration of germs? A toilet seat? A trashcan? What researchers found from swabs of common household surfaces may surprise you.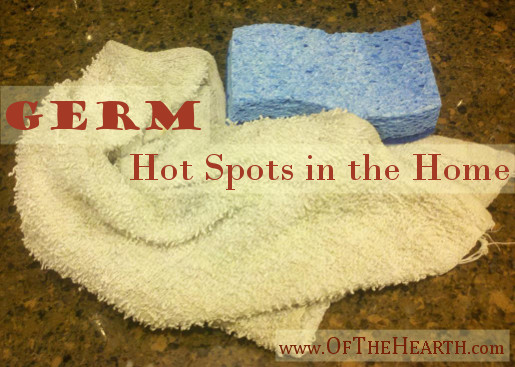 The 10 germiest places in the home
In 2011, researchers at NSF International conducted a study to identify the top 10 germ-laden surfaces in the home. Here's what they found:
Kitchen sponge or dish rag
Kitchen sink
Toothbrush holder
Pet dishes
Water reservoir in coffeemaker
Kitchen and bathroom faucet handles
Pet toys
Countertops
Stove knobs
Cutting board
While some studies have found that other surfaces (including welcome mats, light switches, and trashcans) rival those listed here for germiness, the study that produced this list is insightful because 7 of the 10 surfaces are associated with the kitchen! (It's 8 if you keep pet dishes there.) The kitchen isn't often thought to be the top germ hot spot, so let's take a closer look at why it is.
Why so many germs in the kitchen?
Many of the raw foods that enter kitchens, especially meats, fish, poultry and eggs, are laden with microorganisms.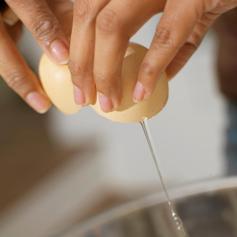 (These microorganisms are particularly noteworthy because they have a propensity for causing disease in humans.) These can spread to various kitchen surfaces when hands, cutting boards, and utensils are not washed properly. The tendency for water to gather in certain areas of the kitchen, such as in sinks or around faucets, also contributes to a kitchen's germiness. This is because moisture and humidity encourage bacterial growth. Powered cooking appliances (e.g., blenders, mixers) are also contributing factors. These appliances can literally shoot germs across the kitchen. One study found that microorganisms can be distributed up to 3-4 meters away from an appliance!
Though the kitchen may have more germs in it than you or I would like, some simple actions can reduce the risk that these will cause disease.
Hands

. When handling food, wash your hands with soap in very warm water for a minimum of 20 seconds. Be sure the towel you use to dry them is clean.

Sponges and dishcloths

. Wet sponges and dishcloths need to be microwaved for 2-3 minutes daily to kill the microorganisms that grow in them. Even when microwaved daily, it is best to replace sponges at least every few weeks. Used dishcloths should also be replaced with fresh ones every couple of days. The used ones can be laundered in hot water (at least 130°F) with a detergent. They should be dried on high heat once the wash cycle is complete (letting them sit can allow residual bacteria to grow).

Sink

. Scrub any debris off the sides and bottom of the sink 1-2 times each week with hot, soapy water. Then wash with a disinfectant cleaner. Drains and garbage disposals can be sanitized each month by pouring a bleach solution (1/4 cup chlorine bleach in one gallon of water) down the drain.

Coffeemaker reservoir

. Follow the manufacturer's instructions. Usually this involves placing vinegar in the water reservoir, letting it sit, and then running it through the appliance. Fresh water is then cycled through.

Faucets

. Wipe daily with a disinfectant cleaner.

Countertops

. Countertop surfaces used in food preparation should be cleaned daily. Scrub with hot, soapy water, then rinse and wipe with a disinfectant cleaner.

Stove knobs

. Wipe weekly with a disinfectant cleaner.

Cutting boards

. When selecting cutting boards, keep in mind that nonporous boards are easier to clean than wooden boards. During food preparation, use a different cutting board for fruits and vegetables than the one used for meat or poultry products. For general cleaning, cutting boards can be washed in hot, soapy water (either by hand or by the dishwasher). For sanitizing, cutting boards should be sanitized with a bleach solution (1 tablespoon chlorine bleach per gallon of water). Allow the bleach to remain on the cutting board surface for several minutes before rinsing with clean water. All cutting boards wear out over time and need to be replaced once they develop hard-to-clean grooves.
Though these guidelines are numerous, most of them are commonsense. For more information, visit the University of Arizona Learn About Germs website.
Did anything on the list of the top 10 germiest places surprise you? Do you pay special attention when cleaning certain areas of the kitchen?