After our discussion on deciding when to get rid of books, have you identified any that you are ready to remove from your collection? If you have, then you are faced with the question of what to do with them. There are a ton of options!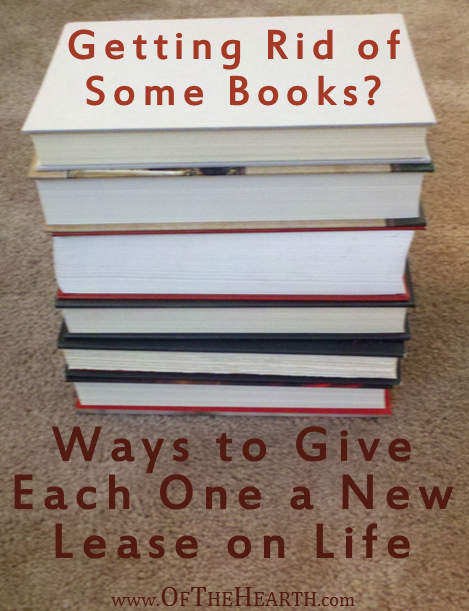 Ways to get rid of books
Give them away

. Consider each book and ask yourself "Who would appreciate this?" You may be able to pass many of the books along to friends, coworkers, etc. who are eager to read them. To make the gifts even more meaningful, write brief notes of encouragement to the recipients and tuck them into the front covers of the books before presenting them to the recipients. If you feel that some of your books aren't beneficial to anyone you know, then consider some of the other options listed here.

Sell them

. There are several outlets for selling used books. You can use websites such as Amazon and eBay. You'll have to put a little bit of work into getting your books listed on these sites and the sites will take a commission of the sale price. However, they can be useful tools, especially if you have a lot of books to sell. Used bookstores are another option. They will often buy back or give trade credit for used books. Although the amounts do vary, many used bookstores will price current titles in good condition at around half the cover price so they pay sellers around 15% of the cover price in cash or 20% in trade credit. Is it better to sell your books online or to sell them back to a used bookstore? You have to determine your objective and what is more convenient. You may be able to make more money selling your books online, but it's quicker and more convenient to sell them to a bookstore. If these options don't work, you can always try selling them at a garage sale.

Donate them

. Most libraries have Friends of the Library groups that conduct annual book sales to raise funds for their libraries. Some churches have similar sales. Many thrift stores accept books to sell in their book departments. If you search, you can also find a number of charities that promote literacy or build libraries throughout the world. These groups accept book donations. Check with each to see if they are looking for books of a certain type (e.g., textbooks, children's books) or if they accept all books. Be sure to get receipts for any book donations made to nonprofit groups, as these donations are often tax deductible.

BookCross them

. You can share your books with strangers using a system created by bookcrossing.com. You download or order labels for your books that include a unique id number. After placing the labels in the books, you can pass them along to friends or "release them into the wild" by leaving them in a public location such as a hospital waiting room. Readers who find the books can enter the book id numbers at the BookCrossing website and indicate that the books have been "caught." They can later release them to others so the process repeats. You can track the travels of your books (and books released by others) on the website.

Start an in-office library

. If you work in an office (or similar setting) you can start a mini-library. You and your coworkers can stock a shelf with books to read during breaks or to borrow to read over the weekend.

Upcycle them

. There are a number of really awesome ways to use books in craft projects. We'll examine several ideas next week.
What other ways can you think of to give books a second lease on life?
Shared on the following link-ups:
Thrifty Thursday, WholeHearted Wednesday & Frugal Crafty Home.