As many of you know, my family just moved from the DC metro area to the outskirts of Houston, TX. We're slowly settling into life in our new city.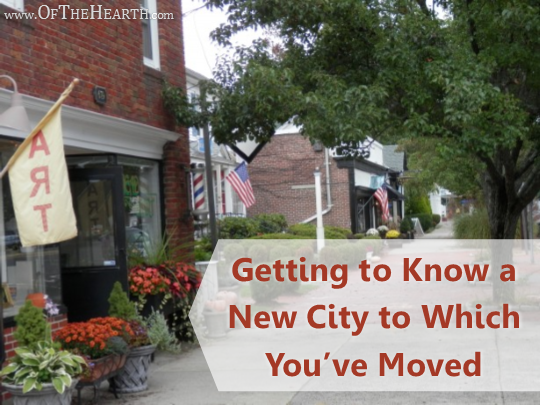 We're somewhat familiar with this area because I lived in Houston while in nursing school, but that was many years ago and I was in a very different part of the city. There's quite a bit we don't know about our new location.
We want to get to know our new area quickly so we can connect with our community. To go about this, we're using a few simple strategies that we hope will be efficient.
How to get to know a new community
Take advantage of the convenience of the internet.

There's no easier way to identify the locations of nearby grocery stores, parks, restaurants, post offices, drug stores, etc. than to look online. Using tools such as Google Maps, we've found where these places are located and have mapped routes to them without leaving the comfort of our home. We've also checked out review websites to see how local residents feel about these places.

Introduce yourself to neighbors.

Though many Americans have lost their sense of connectedness to their neighbors, we feel it's important to foster good relationships with those who live near us. By introducing ourselves to our neighbors, we've been able to begin forming a few friendships and are able to get recommendations regarding traffic patterns, where to shop and eat, what to do for fun, etc.

Read local newspapers, magazines, and blogs.

Local publications provide a wealth of information about what's going on in the community, the issues it is facing, and its culture. We've been enlightened by a number of these. As a bonus, we've come across useful reviews and coupons.

Participate in community events and groups.

Most areas have diverse events and groups that will help you get to know fellow residents and aid in getting to know the community. We've only been here a couple of weeks, so we haven't been able to get involved in many, but I do take my little girl to story time at the library so we can get to know some other moms and babies and learn of other activities going on nearby. Once we're more settled, we'll look into town meetings, sports leagues, fairs, and festivals. You may find it useful to take part in other types of events and groups (e.g., the PTA, neighborhood watch, political groups) depending on your location and lifestyle.

Join a church.

Church is perhaps the single easiest way to get to know residents in your area and get connected to your community. Of course, this isn't the primary purpose of church, but it is a benefit of it! Because we've been here for such a short time, we haven't yet settled in with a local congregation, but we've visited a couple of churches and found that even this little bit of contact is helpful in learning about our area.

Get out and explore.

There's no substitute for seeing things firsthand, so it's often beneficial to get in the car (or hop on a bike or bus) and go exploring. We've discovered quirky aspects of our community by doing this, as well as found hole-in-the-wall restaurants we'd like to try and parks we'd like to visit. We'll be purchasing a house once the sale of our previous one is finalized, so exploring has been especially beneficial in helping us get a feel for where we'd like to live.
When you moved to a new community, how did you become familiar with it? Please share your tips!
Shared on the following link-ups:
Teach Me Tuesday, Titus 2 Tuesday, Motivation Monday, Making Your Home Sing, Saturday Soiree, Weekend Wind Down and Shine Blog Hop.