I remember being annoyed during my freshman year of college when my roommate would hit the snooze button on her alarm multiple times before she'd get out of bed. My sleep would be interrupted each time her alarm sounded! Years later I got married and my husband did something similar. He would have several alarms go off over the course of 20 or 30 minutes before he'd get up. Why was it impossible for these two to just get up the first time their alarms sounded? That's what I always did. Fast-forward a number of years and I sure wish this was still the case!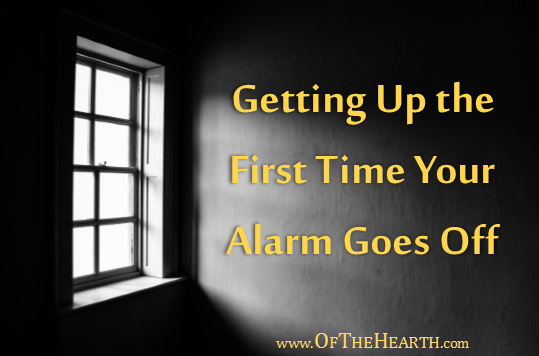 Sadly, these days I rarely get up the first time my alarm goes off. Something changed when I became a mother and now I'm often tired. Currently I'm the one whose alarm goes off three times before I drag myself out of bed!
Why does it matter if I get up when my alarm sounds?
I'm sure many individuals don't mind if their alarms must sound multiple times to get them out of bed. It's great if this works for you. However, it doesn't work for me. Why is this?
The sleep I get between alarm soundings is of poor quality.

Although I somehow feel that I need it, the couple of minutes of sleep I get between the times when my alarm sounds aren't all that great. It's certainly not restorative like regular nighttime sleep.

I have things I need to get up and do.

The reason my alarm is set to go off at a particular time in the morning is because I have things I need to get up and do. In this season, I'm rising early so I can have a few minutes to get a cup of coffee and have some quiet time to pray and read my Bible before my daughter wakes. There's no way a couple of extra minutes of sleep are more important than this!

Sometimes it's laziness that keeps me in bed, not fatigue.

Being a mother can be very exhausting, especially when you have an infant who is still feeding during the night. Subsequently, a little fatigue in the morning when my alarm sounds isn't unexpected. However, sometimes I do get a good night of sleep and I still don't get up the first time my alarm sounds. Why? Because I'm being lazy. While fatigue is a good reason to rest, laziness is something I must battle because it is wrong.

Getting up when my alarm sounds is a good way to start the morning.

When I drag my feet while getting out of bed, it sets a lethargic tone for my day. On the other hand, when I get up quickly, it sets an enthusiastic tone for my day. We have every reason to get up with enthusiasm. Today is a gift from God (Psalm 118:24) and He has new mercies for us (Lamentations 3:19-23) as we face it.
Strategies for getting out of bed when your alarm goes off
Here are the strategies I'm using to help me get up the first time my alarm sounds.
Remind myself why it's important that I get up.

I'm bringing to mind those reasons mentioned above for why it matters that I get up when my alarm sounds.

Go to bed earlier.

Because fatigue is one reason I struggle to get up, I'm trying to get a little more sleep. This isn't always doable, particularly if the baby has a bad night, but it's beneficial on days when it is possible.

Stop screen time at least one hour before bed.

Experts say that the light from screens (TVs, smartphones, computers, etc.) can trigger your body to think it is daytime. Thus, it's best to turn these off as bedtime approaches. I've been doing this and spending a few minutes reading quietly instead of checking my email or doing other things on my computer.

Make it light.

I feel that it is so much easier to get up in the morning when the room is light. An easy way to have light in the morning while keeping it dark at night is to put one light in your bedroom on a timer. Set the timer to switch the lamp on just before your alarm sounds.

Make the alarm difficult to turn off.

I began using a setting on my phone that requires me to place a few numbers in ascending order before the alarm will stop sounding. This requires me to wake up enough to concentrate on the numbers. Once this happens, I'm usually able to stay awake. If you're desperate, you can always try one of these alarms on wheels. You have to chase it around the room to shut if off!

Stick to my schedule on weekends.

Since becoming a mom, sleeping in has pretty much become a thing of the past. On a very rare occasion I might be able to sleep in a bit, but I've found it is beneficial to go to bed and get up at the same time on the weekends. It makes it easier to keep my schedule during the week!
Is it important for you to get up the first time your alarm sounds? Why or why not? If it is, what strategies do you use to get yourself out of bed?
This post contains affiliate links. See About the Blog on the menu for details.
Shared on the following link-ups:
The Art of Home-Making, Word Filled Wednesday, Coffee and Conversation, WholeHearted Wednesday, Titus 2 Tuesday and Monday's Musings.